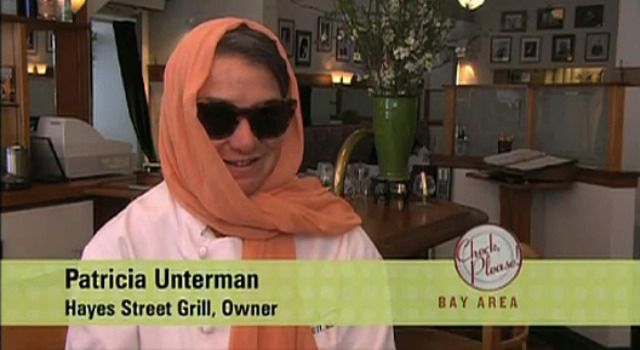 Patricia Unterman returns to Bernal Heights to give Piqueos another try. Though her first visit left her feeling lukewarm about the whole "contemporary Peruvian tapas" concept, this time around, things seem to have improved since opening (we think).
The cebiche is declared among the best in the city and the dessert "induces sighs." Final judgment: "the meal had been good — not traditional, but delicious."
The foodie may want to be more careful though. She was spotted incognito on the May 10th episode of Check, Please! Bay Area and depicts none other than the Examiner critic—and ahem, Hayes Street Grill owner— Patricia Unterman, with her head wrapped of course.
True, this "spotting" isn't exactly in the same vein as the Michael Bauer ones earlier this week, especially given that a) Unterman rarely rips restaurants and b) her beat probably consists of 50 percent "normal reviews" (i.e., new places like Tipsy, Contigo) and 50 percent off the beaten path (you can make an argument that she's the best in the city at unearthing hidden gems).
That said, the Unabomber look sure is fun.
Copyright EATRS