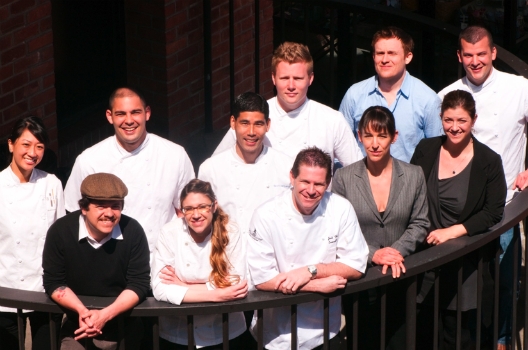 The StarChefs Rising Star Revue, recognizing up-and-coming chefs, sommeliers and mixologists, returns to San Francisco on Wednesday, June 16.
Locals may be unfamiliar with the event because it hasn't taken place in San Francisco since 2007, and before that in 2005. So this is how it works. StarChefs.com, that online "culinary insider" magazine that has been around since 1995, chooses four cities to honor each year based on "how hot the culinary scene is in that city."
San Francisco is indeed looking hot this year. And so the previous San Francisco winners and the StarChefs Advisory Board, which includes high-profile chefs like Jean-Georges Vongerichten and Daniel Boulud, nominated over 90 Bay Area candidates who were then considered via in-person tastings and interviews.
Fourteen winners were chosen, including recent San Francisco-transplant Matthew Accarrino of SPQR and pastry chef Melissa Chou of Aziza. They'll each be given a station at the gala; winning sommelier, Sarah Valor, has been charged with the somewhat daunting task of pairing a wine with most dishes. (We hear one is being paired with a beer and one with a whiskey.) The full list of 14 2010 Rising Star Winners awaits here.
Matthew Accarrino/SPQR: Bone Marrow Sformatino, Bacon and Onions
John Paul Carmona/Manresa: Boudin Blanc, Dates and Wild Watercress
Maximilian DiMare/Wood Tavern: Crispy Pork Belly with Bacon Braised Red Lentils, Spinach, Soft Poached Egg, and Chives
Louis Maldonado/Aziza: Marinated Striped Bass, Caviar, Green Strawberries, Brown Rice
Thomas McNaughton/Flour + Water: Pork and Pea Ravioli (more elaborated title to come)
Scott Nishiyama/Chez TJ: Moulard Duck Foie Gras, Niege, Blackberries, and Sunchokes with House-Made Mustard Bread
Josh Thomsen/The Claremont Hotel Club & Spa: Sonoma Goat Cheese-Potato Terrine with Baby Beets and Aged Balsamic
Melissa Chou/Aziza: Goat Cheese Panna Cotta
Catherine Schimenti/Michael Mina: Creamsicle, Aperol Powder, Basil
Joshua Skenes/Saison: Little Roots with Caramelized Shoots and Leaves
Shelley Lindgren/SPQR and A16: Bruschette with Roasted Sardines, Minted English Peas and Pickled Red Onions (by Liza Shaw from A16)
Cocktails from Erick Castro/Rickhouse and Brian MacGregor/Jardinière are still TBD
At $95 per person tickets for the affair are a bit on the pricey side, but consider many of the chefs are serving the very dishes that inspired the judges to elect them, so, as you see, this isn't going to be a pizza and slider-type gathering. VIPs can pay $150 for a pre-event reception with Champagne and Petrossian Caviar. A portion of the proceeds will go to a local charity. [EaterWire]
Copyright EATRS