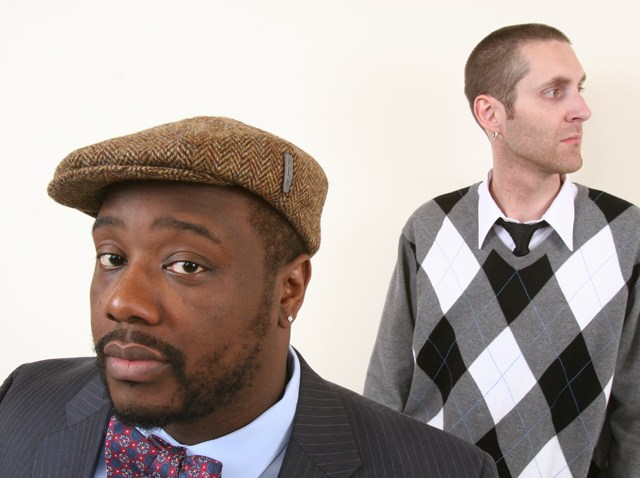 Holland meets North Carolina to make The Foreign Exchange, a soulful hip-hop duo consisting of Dutch producer Nicolay and southern singer slash emcee slash part-time comedian slash whatever he wanna be, Phonte.

They play Yoshi's San Francisco with a full band at midnight on Saturday, Sept. 12. Wait, what? Yeah – midnight, y'all – for a special "Beyond Jazz Music Series." You can get tickets for $25 at the Yoshi's website.

Why the eff do you care?

One: you're nosey. The guys sat down with me for about half an hour to answer some of my favorite questions. Phonte talks about how he wishes he was Theo from "The Cosby Show," why he is the boss of himself, and spying on his kids. Nicolay shares college dropout fantasies, stories of his mama's records, and more. More on that in un momento.

Two: story time!

Their debut, "Connected," was a uniquely melodic hip-hop record, receiving high praise from hip-hop snobs far and wide. It introduced me to one of my favorite female vocalists, Yahzarah (former background singer for Erykah Badu) – home girl gets it in. She will stomp yo ass out with those pipes, forreal forreal.

Judging from their sophomore release, "Leave It All Behind," being formulaic clearly isn't part of the plan, though. The follow-up work steps away a bit from the group's hip-hop roots and trades it in for a haunting soul sound sprinkled with ambient and house vibes where Phonte decided to sing more than rap. Electro-soul space cadet and DC-based songstress, Muhsinah, was the first lady for this album. Tingles up and down your spine type isht right there.

What introduced the house sound, though, as opposed to maybe a stronger jazz presence? Phonte says he's always been a fan of house, boogie, disco, but legendary DJ Jazzy Jeff was the one to really turn him out on house – at Jazzy's house – one day while playing a bunch of records. Phonte asked Jeff to make him a CD back in 2003, then got epic party rocker DJ Spinna to bless his ear with a little more, and then himself ventured into "the rabbit hole" of house music that's even harder to keep up with than hip-hop, he says.

Foreign Exchange recently created their own imprint on which they released Leave It All Behind. And the second project to drop on their label comes in about a week – Nicolay's City Lights Vol. 2: Shibuya. It's a largely instrumental work but also features four tracks with vocalist Carlitta Durand. Nicolay also went harder than he ever has in the house and electronic direction with the record. More danceable hip-hop and soul? Why the hell not. Artists Zo! and Carlitta Durand will be the next to release solo projects on FE's label.

What's your favorite non-instrumental, non-engineered sound? Of everyday life, in the natural world.

Phonte: Probably like, running water.

Nicolay: That's a good question. I'd say bird song.

If you had a free-pass to have one question, any question answered – what would it be?

P: I guess I'd wanna know how my kids are gonna be, like, are they gonna be okay? You know what I mean, like, what are they gonna do? What are they gonna grow up and become?

N: You said one question? And I can't ask for more questions? I guess if anything…man – these are not easy questions…

P: …that's a welcome – I mean, you know – I rather have it be these kinda questions than the same stupid sh*t we get asked, you know what I mean.

[Nicolay laughs]

N: I think if anything, I'd probably ask to just explain to me the meaning of it all just to see if I can kinda, you know, compare it to my version and see what the deal is with that. See how it's different or not.

What was the first song you heard - not yours - that made you feel like it was written for or about you?

P: Ah man, Jesus Christ, man – it's hard to think of the first one. [How about] Just any song? I got so many. Man, "Overjoyed" by Stevie Wonder. Just the lyrics and just the feeling of the song. Like, the lyrics of what he's saying – it should be a happy song, but the music behind it makes it kinda bittersweet. There's a little bit of sadness. And that's really what life is, [laughs] you know what I'm saying? And it just kinda personifies and encompasses all of this life – you have moments of happiness, you know, mixed with moments of sadness and that's kinda what the record is.

N: For me it would have to be a Prince track. And I'm thinking, I know one of the earlier ones I remember just being like dumbfounded about was, "Condition of the Heart," and that's from like, I wanna say '85 or something, from the Around the World in a Day album. I think, just because that was the first time that I really sort of figured out or sort of saw, like, Prince in his musical magnitude, if you will. Just really the deep emotion of it, the layers in and it just really was one of those songs that makes you think about everything that is, you know – possible. It was just like a very sincere expression.

Aside from music, what's another dream that you have yet to be realized?

P: Probably acting.

N: For me it'd be more traveling, but traveling like in way to where you can see things. Like, you know, we travel a lot but that's more situations where you normally just see the venue and the hotel and the airport. But really travel, like, maybe South America – stuff like that. Africa, maybe more Asia – I'd love to just see more of that.

Phonte, you mentioned that music is hope, more spiritual than entertainment. Describe the most profound experience you've had while listening to music?

P: Damn, um. A spiritual experience – I don't know, I've had so many. Probably I'd say one that was very recent is when I was just in London for a Michael Jackson tribute concert. I performed and after it was over, the DJ had an after party – they had a dance floor. I think he was playing, "Don't Stop Til You Get Enough." And everybody was just like singing the lyrics and dancing and the energy was crazy, you nah'mean. And that was probably one of the times in recent memory that I can remember that I was just watching it and – you know, it was just – I got really sad just thinking that it probably won't be nobody else to really make people feel that way again. There'll never be an entertainer on that big of a scale that music will cross, like, virtually every boundary possible. And so, just – it was happy to see but it really did make me kinda sad, you know what I mean. But, I got back out there and started dancing – so, you know, I figured that's what Michael Jackson would have wanted me to do. [laughs]

N: For me, I'd have to say probably like some of the most profound moments or whatever listening to music was I think when I was a little kid. My mom would play records and I would just be in the room kinda taking it all in. And I remember from very early on that I really just loved it, like – I couldn't wait til she put something on the record player. Like, the stuff that I heard in those years really still to this day has an incredible effect on me because of that reason. Stuff like, Journey Through The Secret Life of Plants, which is definitely not Stevie's most beloved album – but that album for me specifically – I just have a passion for it just because I heard it a kid over and over and over. Certain Neil Young albums, certain Beatles stuff. But even certain classical records, because of that reason I just have a direction connection with.

If you could personify one thing or feeling and have it kick it with you, what would it be?

[Nicolay laughs]

P: I would probably say, hope. I would like to see what hope looks like.

N: Man. I'd probably say I'd like to see inspiration personified. Cause I think if you could kidnap somebody like that, you could kinda keep that going forever – you don't ever have to look. You know that fairytale about that guy that doesn't wanna get old so he kidnaps death? You know, I guess you could do the same thing with inspiration – kidnap inspiration and you got inspiration for days, right?

If you could place yourself inside a movie, TV show, or cartoon what would it be? What would your character do?

P: I'd be Theo from the Cosby show. I'd just be Theo, you know what I'm saying. Hang out with Cockroach and kick it with my dad, you know what I mean. Enjoy living in the house with two parents and sh*t.

N: Man, I'm trying to think. I'm not a super big TV watcher or movie watcher. Gollllly. Truth be told, my favorite TV shows I definitely would not wanna picture me inside – something like True Blood, to be honest with you. [laughing] I don't know – if anything, it'd probably be like a concert movie back in the day just to kinda be there, you know what I'm saying. I like watching concert movies a lot. You know, Stop Making Sense by the Talking Heads or something like that. Maybe the Sign 'O' The Times movie – yeah – I'd definitely be – but more like somebody just backstage kinda peepin it rather than actually being a part of it. You know, I'm more of a behind the scenes kinda guy.

If you could assume the identity of any person living or dead for a week and live in their shoes, who would it be and why?

P: Probably Stevie Wonder. Just to know where all the music comes from, just to know where all those ideas come from, you know. I mean, just to walk through his thought process of writing a song, you know what I'm saying.

N: For very similar reasons, I'd say Paul McCartney. Cause it's like, to have the actual memory of those hey days would be mind-blowing. Just to like even be an old dude thinking back at it, I think would be fun. Not even actually being there but just the recollection alone.

What's been your biggest mistake and consequent life lesson?

P: I would say signing to a major label – that was a big mistake that I in turn learned from so I can't really say it was a mistake, but definitely one of the unhappy times of my life. I learned that I was just better off doing myself. For me, it was just really like, you know, just having to give up so much of your control over what you do and just really essentially turning over your life to being in the hands of other people – like, that sh*t ain't cool, [laughs] you know what I'm saying? I learned that my freedom was much more important to me than any kind of financial gain.

N: Wow. I gotta say that in terms of mistakes, like what Phonte just said – even mistakes or things you later find out aren't the right decisions, can still prove very invaluable lessons. I think in my case I went to university and kind of looking back, I don't think I necessarily chose the right course or right field, which ultimately made me not do as well as I could have done. But at the same time very directly or indirectly, that was the start of my music career. But looking back I'm not really just the type for school or schooling, really. And so that's why I also took a little bit longer than I wanted to. It was the exact opposite of a shortcut. You know, like, when I went to university and I started studying music it was all very theoretical and at the time I really kinda detested that almost because I just wanted to play. But looking back at it, I do have a very strong musical foundation because of that. I guess it was a blessing and a curse all in one.

What's the most interesting thing you've recently learned or discovered?

P: I guess it's that you're in charge of your own happiness. You're pretty much the architect of your own destiny and your own life. A lot of times I think in the past, for me – you'd always just look outward and be like, "If it wasn't for this," "If it wasn't for that," "If it wasn't for this, I'd have this," you know what I'm saying. But, you know, as I grow older it's just kinda like – I can create what I want, you know what I mean. And I think that doing the Foreign Exchange album played a big role in that just because it represented an artistic stretch for me and for Nic. And we pulled it off successfully. It just kinda gave me just that confidence and just that assurance that, you know, whatever it is that you wanna do, you can really do it on your own terms and just really make it happen for yourself.

N: I've really grown over the last year and really taken flight in this stage. Because of the fact that we are responsible for our own product, our own music, and our own artwork and everything – and because we have the control – you really depend on the people that are in your team and staying on a very real level. Especially if you're an independent artist, you don't have five, six, seven people working on a staff or whatever, you really depend on your team, your people, and just the blessing of being part of a really strong team in which everything seems to work really smoothly – just how that progresses and just seeing how you can, you know, reach things that way – it's a really eye opening experience. You really find out who the people are that you can depend on and that know you and got your back. And you also learn the people that, you know, don't really have that commitment to you. That in and of itself is a very interesting experience – but yeah, the strength of a team really showed me that.
Seher Sikandar is a Bay Area-based photographer and writer who covers art and lifestyle events. Check out her portfolio at rehescreative.com.