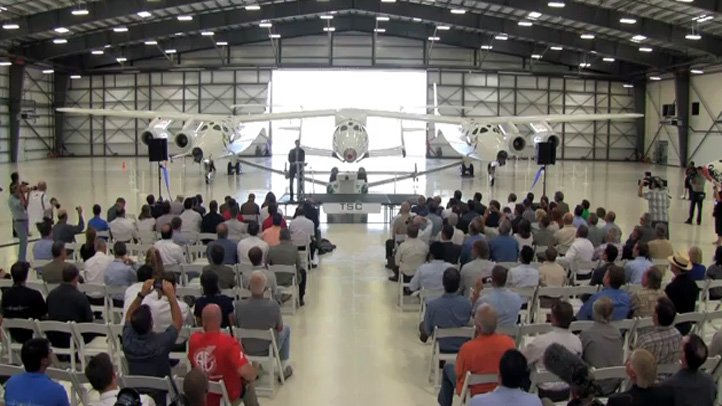 Space tourism took one giant leap toward reality Monday with the completion of an $8 million spaceship production plant in the Mojave Desert.

Virgin Galactic's White Knight and SpaceShipTwo will be built at the facility. The passenger-ready spaceships also will be tested at the 68,000-square foot facility.

The Spaceship Co. (TSC) is a joint venture involving British billionaire Sir Richard Branson's company and Mojave-based Scaled Composites.

"We're ushering in another phase in the development of commercial space travel," said president of Scaled Composites Doug Shane. "It's exciting to see the vision becoming a reality."

SpaceShipTwo is the successor to SpaceShipOne, which was the first privately financed manned rocket to reach space. Engineers plan to begin powered test flights into space later this year.

Previous tests were unpowered glider flights.
The White Knight looks like two fixed wing aircrafts flying side-by-side. SpaceShipTwo is mounted in the middle of the twin-fuselage layout under a shared wing, then carried into space and released.

About 200 workers will be employed at the assembly plant. Positions at the new facility are expected to be available in the next three months.

No date has been set for the first commercial flight, but you can book a ticket at VirginGalactic.com. Cost: $200,000. There is a $20,000 deposit.

Launches are expected to be at a spaceport in New Mexico.
Copyright AP - Associated Press