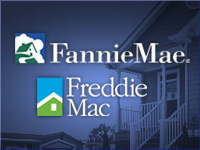 Fannie Mae and Freddie Mac shares were halted as regulators announced that both companies are being asked to delist from the NYSE and any other national securities exchange.
The Federal Housing Finance Agency, the conservator for both Fannie and Freddie , has directed both to delist their common stock and their preferred stock, the agency announced Wednesday in a press release.
Both companies stock, however, will continue to trade, but will be quoted on the Over-the-Counter Bulletin Board, according to the press release.
"FHFA's determination to direct each company to delist does not constitute any reflection on either Enterprise's current performance or future direction, nor does delisting imply any other findings or determination on the part of FHFA as regulator or conservator," Edward J. DeMarco, the FHFA Acting Director, stated in a press release. "The determination to direct delisting is related to stock exchange requirements for maintaining price levels and curing deficiencies."
According to statements issued by both companies, Fannie has notified the NYSE and the Chicago Stock Exchange and Freddie has notified the NYSE of their intent to delist any common and preferred stock.
Copyright CNBCs - CNBC