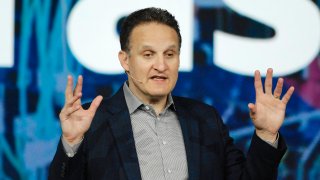 Amazon's cloud-computing business generated revenue of $20.5 billion in the third quarter.
AWS is slowing down hiring in some areas, a spokesperson confirmed this week.
Amazon said Thursday that revenue growth in its cloud-computing unit slowed in the third quarter to 27.5%, missing analysts' estimates. It's the slowest expansion since at least 2014, the year Amazon started reporting on the group's finances.
Revenue at AWS came in at $20.5 billion, according to a statement, while analysts polled by StreetAccount had expected $21.1 billion. Revenue grew 33% in the second quarter. AWS now contributes 16% of Amazon's total revenue. Toward the end of the quarter, the revenue growth percentage for AWS was in the mid-20s, Brian Olsavsky, Amazon's finance chief, said on a conference call with analysts.
AWS, which Amazon launched in 2006, controlled about 39% of the cloud infrastructure market in 2021, down from 41% in 2020, according to estimates from technology industry researcher Gartner. Google, Huawei and Microsoft all gained share last year, Gartner said. The industry has seen steady growth as businesses continue to offload their computing and storage to the cloud.
"The ongoing macroeconomic uncertainties have seen an uptick in AWS customers focused on controlling cost, and we are proactively working to help customers cost optimized, just as we have done throughout our history especially in periods of economic uncertainty," Olsavsky said. "The breadth and depth of our service offerings enable us to help them do things like move storage to lower-priced tiered options and shift workloads to our Graviton chips."
Operating income for the division was $5.4 billion, less than the StreetAccount consensus of $6.37 billion. Amazon as a whole had $2.53 billion in quarterly operating income. AWS operating margin contracted to 26.3% from 29% in the second quarter. Olsavsky said Amazon has seen wage inflation in 2022, particularly in AWS, and higher energy prices are cutting into operating income as well.
"We are fighting through some of that as well, which is a new thing for the AWS business," he said.
During the quarter AWS launched its second cloud data center region in the United Arab Emirates, and it announced the availability of "serverless" services that help developers deploy data-analytics tools with minimal server-management work.
Amazon has slowed the pace of hiring in AWS, even as it continues to grow faster than the company's core e-commerce business. In some parts of AWS, Amazon has met its hiring needs, while in others it has thousands of job openings, an AWS spokesperson told CNBC earlier this week. The comments came as Google and Microsoft also indicated they would reduce headcount growth.
Sales growth moderated across many of Amazon's businesses during the third quarter, and executives expect those trends to remain in place in the fourth quarter, Olsavsky said. Organizations big and small are evaluating the technology spending, and Amazon has been working with enterprise customers to help them lower their bills, he said.
WATCH: Amazon Web Services CEO: I hope my kids don't think we're doing enough on the environment
Copyright CNBC