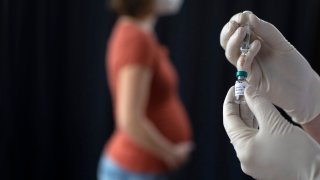 The coverage on this live blog has now ended.
Concern is growing around Covid-19 virus variants in the U.S. as mutations threaten to disrupt the country's efforts to reduce the spread and to get vaccine doses into arms. The Biden administration is investing in sequencing efforts to detect and confirm virus mutations, and researchers continue to test whether established treatments and vaccines will be effective against the various strains.
Here are some of the biggest developments Thursday:
The U.S. is recording at least 77,000 new Covid-19 cases and at least 2,060 virus-related deaths each day, based on a seven-day average calculated by CNBC using Johns Hopkins University data.
The following data was compiled by Johns Hopkins University:
Global cases: More than 110.18 million 
Global deaths: At least 2.43 million
U.S. cases: More than 27.88 million
U.S. deaths: At least 492,646
The second dose of Covid vaccine is crucial for full immunity, Dr. Paul Offit says
The second dose of Covid-19 vaccine is needed for longer and complete immunity, and it helps prevent variants of the virus, according to Dr. Paul Offit, director of the Vaccine Education Center at Children's Hospital of Philadelphia.
"We need to know that this is a two-dose vaccine, period," Offit told CNBC's "The News with Shepard Smith." "The second dose of either the Pfizer or Modern vaccine dramatically increases it and induces the kind of cells that suggest you'll have longer term memory, meaning the vaccine would last for a few years. I think if we have people who just get one dose of the vaccine, which will give you shorter and less complete immunity, that's only going to create variants."
His comments came after a recent study suggested that the second shot of the Pfizer's vaccine could be delayed because the first one is highly protective, according to a letter published in the New England Journal of Medicine.
—Yun Li
Treasury Secretary Yellen pushes for big stimulus package
Treasury Secretary Janet Yellen said Thursday that a major stimulus package is necessary for the economy to recover from the Covid-19 pandemic even amid strong economic momentum to start 2021, CNBC's Jeff Cox reports.
"We think it's very important to have a big package [that] addresses the pain this has caused – 15 million Americans behind on their rent, 24 million adults and 12 million children who don't have enough to eat, small businesses failing," Yellen told CNBC's Sara Eisen during a "Closing Bell" interview.
"I think the price of doing too little is much higher than the price of doing something big. We think that the benefits will far outweigh the costs in the longer run," she added.
Lawmakers have been trying to push through additional Covid aid for months. House Speaker Nancy Pelosi, D-Calif., said earlier on Thursday that the House will try to pass its version of a $1.9 trillion package.
U.S. health experts remind Americans that food packaging won't give them coronavirus
Top U.S. food and health officials reiterated on Thursday they have found no evidence of the coronavirus being transmitted via food or its packaging.
The officials also expressed confidence in the country's food supply, adding that virus particles on contaminated surfaces are lower than what is needed to transmit the virus via oral inhalation.
Scientists around the world have also reached the same conclusion, with the International Commission on Microbiological Specifications for Foods saying: "Despite the billions of meals and food packages handled since the beginning of the COVID-19 pandemic, to date there has not been any evidence that food, food packaging or food handling is a source or important transmission route for SARS-CoV-2 resulting in COVID-19."
—Rich Mendez
Uber extends its remote-work policy through mid-September
Uber extended its remote-work policy through Sept. 13, a company spokesperson confirmed Thursday.
"In considering the extension, we took into account the latest scientific data and experts' views; the fact that different countries are at different stages of recovery; and the start of the school year," Uber's Chief People Officer Nikki Krishnamurthy said in an email to employees. TechCrunch first reported on Uber's extension.
Uber said in August it would bring employees back July of this year, but the slow Covid-19 vaccine rollout is hindering its plans to return to normal by the summer. Uber's delay could be followed by more tech companies pushing back their return to the office.
—Jessica Bursztynsky
House hopes to pass $1.9 trillion Covid relief bill next week
House Democrats hope to pass their $1.9 trillion coronavirus relief plan by the end of next week, Speaker Nancy Pelosi said.
The party aims to approve the bill in both chambers of Congress and get President Joe Biden's signature before March 14 — the same day a $300 per week unemployment insurance supplement and provisions expanding jobless benefits eligibility are set to expire.
Democrats' rescue plan would increase the weekly payment to $400 and keep the pandemic-era unemployment programs in place through Aug. 29. It also would send $1,400 direct payments to most Americans, put $20 billion into a national Covid-19 vaccine program and give $350 billion to state, local and tribal governments.
Lawmakers will soon see whether all parts of the bill comply with rules governing budget reconciliation, the process through which Democrats can pass it without Republican votes in the Senate. GOP lawmakers have criticized the plan's price tag.
—Jacob Pramuk
Walmart CEO calls for more stimulus as some customers stretch the budget
Walmart CEO Doug McMillon has talked to many customers over the years, but he said a recent conversation — with a man who was trying to stretch $20 into enough to cover a week of groceries, gas and other expenses — stuck with him.
"Those customers are the ones that the stimulus package needs to go help and go help quickly," he said in an interview with CNBC's Courtney Reagan on "Squawk Alley."
The retail leader said Americans urgently need another payment from the government to keep them afloat. He said he called for another round of stimulus checks and small businesses aid when he met with President Joe Biden and Treasury Secretary Janet Yellen at the White House last week.
—Melissa Repko
Pfizer and BioNTech start testing their vaccine in pregnant women
Pfizer and BioNTech have started testing their Covi-19 vaccine in pregnant women, with an international study of 4,000 volunteers, Reuters reports.
The drug received emergency use authorization late last year after late-stage clinical trials determined its safety and effectiveness among the general population, but it has yet to be thoroughly tested among women who are pregnant. Still, pregnant women in the U.S. and elsewhere have received doses of the vaccine, often at the recommendation of medical professionals.
The study will seek to determine if the vaccine causes any harm to the fetus or if it could lead to miscarriage.
—Sara Salinas
Fauci says winter storm in Texas is a significant problem for vaccine distribution
White House Chief Medical Advisor Dr. Anthony Fauci said the winter storm and power outages across Texas are a significant problem for Covid-19 vaccine distribution.
"Well, obviously it's an issue. It's been slowed down in some places going to a grinding halt," Fauci told MSNBC. "We're just going to have to make up for it as soon as the weather lifts a bit, the ice melts and we can get the trucks out and the people out."
The Biden administration is working to pick up the pace of vaccinations across the country. But, the winter storm battering Texas is causing some Covid-19 vaccine shipments to be delayed and forcing vaccination sites to temporarily close nationwide.
Once roads are cleared and power is restored, health-care providers are going to have to work "double time" on Covid-19 vaccinations, Fauci said. He added he doesn't know how many vaccine doses could have been destroyed due to power outages or delivery delays.
–Berkeley Lovelace Jr.
CDC guidance could keep schools unnecessarily closed, doctors say
The Centers for Disease Control and Prevention's long-awaited guidance on how to safely reopen schools during the pandemic could end up keeping kids out of the classroom longer than necessary, four doctors who reviewed the guidance told CNBC.
At the heart of the criticism is the CDC's decision to tie reopening decisions to how severely the virus is spreading in the surrounding county. The guidance says schools can fully reopen for in-person learning only in counties with low or moderate levels of transmission, which means fewer than 50 new cases per 100,000 residents over seven days or a test-positivity rate lower than 8%. Schools in counties that don't meet that threshold should shift to hybrid learning, when students spend just some time in the classroom, with the priority on getting elementary students into the classroom, the guidance says.
Based on those measures, though, the overwhelming majority of schools in the U.S. should not bring students into the classroom five days a week. More than 40% of K-12 schools, however, are already operating in-person full time, according to data from Burbio, a service that tracks school opening plans.
"Something we know one year out in this pandemic is that you can keep schools safe even if you have high rates of community transmission," said Dr. Syra Madad, senior director of the systemwide special pathogens program at New York City Health + Hospitals. "Those benchmarks will probably put more pressure on schools than needed."
—Will Feuer
What timing looks like on the next round of likely stimulus checks
Millions of Americans could be poised to receive another round of $1,400 stimulus checks if the latest coronavirus relief bill goes through unchanged.
But based on the current timeline, that money make not start to arrive in people's bank accounts or wallets for several more weeks.
Congress is expected to pass the legislation in early-to-mid March.
From there, the federal government will likely begin deploying the payments. As with previous checks, those with their direct deposit information on file with the IRS will be first in line to get their money. Others may have to wait at least several weeks to get debit cards or checks in the mail.
Though the IRS will be contending with a big workload due to tax season, experts expect the process of sending out the third stimulus checks to go more smoothly now that the tax agency has experience sending out the payments.
"The good news is that there is a bit more infrastructure and a more formalized process to do this than this time last year because they've been through it twice," said Garrett Watson, senior policy analyst at the Tax Foundation.
—Lorie Konish
Many workers want to remain remote even after offices reopen
Vaccinated or not, more than half of employees said that given the option they would want to keep working from home even after the pandemic, according to a recent survey.
But employers are not hinging their return-to-work plans on vaccinations, so many are already planning how and when offices will reopen.
Employees who may not be ready "need to be aware of the policies and understand the exceptions," said Carol Goodman, chair of the employment practice at New York-based law firm Herrick, Feinstein. 
Equal Employment Opportunity laws allow companies to mandate the flu and other vaccines, but employees can opt-out under certain circumstances. The same may be true for Covid-19 vaccines, based on early guidance.
Returning to the office could play out similarly, according to Michael Schmidt, a labor & employment attorney with Cozen O'Connor in New York.
"The bottom line is unless an employee has a need for an accommodation that precludes them from returning to the office, an employer is within its rights to bring in employees."
—Jessica Dickler
Biden advisor says Christmas is a reasonable timeline for getting back to normal
President Joe Biden's prediction that the United States could return to some semblance of normalcy by Christmas is "a reasonable answer," a senior advisor on the president's Covid-19 response team told the Washington Post.
But White House Covid advisor Andy Slavitt said he's reluctant to give a timeline for when things could return to normal, warning there are still plenty of unknowns. The biggest issues that could undermine teh forecast are new, emerging variants as well as vaccine hesitancy in the U.S. and elsewhere.
"There's a lot we don't know about the future," he said. "We are trying not to give a false sense of security or a false sense of precision when none exists. And I know that makes people less comfortable, but I also know people want to be leveled with and they want to be told the truth."

—Berkeley Lovelace Jr.
Black small-business owners are being left behind in the pandemic, survey shows
Nearly a year into the pandemic, many small businesses are struggling to survive — especially those that are Black owned.
More than one-third, or 37% of Black small-business owners, say they can survive more than a year under current conditions. In comparison, 55% of Hispanic small-business owners and 59% of White small-business owners reported the same, the latest quarterly CNBC|SurveyMonkey Small Business Survey found.
In addition, 15% of Black-owned businesses temporarily shut down due to the pandemic and have not yet reopened, compared to 8% of White owners.
Yet, they are more optimistic than any other race, with their Small Business Confidence Index coming in at 61. Hispanics' index is 59 and Whites' index is 41.
—Michelle Fox
U.S. initial jobless claims jump to highest level in a month
First-time filings for unemployment insurance jumped last week to 861,000 — the highest level in a month — signaling recovery of the U.S. labor market continues to struggle, reports CNBC's Jeff Cox.
The total for the week ended Feb. 13 was above the Dow Jones estimate of 773,000, and only a slight uptick from the 848,000 a week ago. That number was revised up from the initially reported 793,000.
—Melodie Warner 
Bill Gates says J&J, Novavax vaccines retain 'a lot of capability' against variants
Billionaire philanthropist Bill Gates told CNBC that Covid-19 vaccines developed by Johnson & Johnson and Novavax will still be essential tools against new, emerging variants of the virus — even though the companies have said their shots may be less potent against a strain found in South Africa.
People understand that "there is reduced efficacy, although Novavax and Johnson & Johnson still retain a lot of capability against those variants," he told CNBC's Andrew Ross Sorkin in an interview that aired Thursday on CNBC's "Squawk Box."
Gates questioned whether a third dose of a vaccine would be enough of a boost to protect against new variants.
"There's a rich dialogue between our foundation, Dr. [Anthony] Fauci and the other government people right now about this variant strategy," said Gates, co-chair of the Bill and Melinda Gates Foundation and co-founder of Microsoft.

–Berkeley Lovelace Jr.
Pandemic pushes U.S. life expectancy lower by one year
The Covid pandemic has pushed the life expectancy in the U.S. lower by a full year, according to a report from the Associated Press, the largest single-year change since World War II.
Life expectancy measures the average anticipated lifespan of a baby born in the U.S. in a given year. In the first half of 2020, overall life expectancy for Americans was 77.8 years, down from 78.8 years in 2019.
Black Americans and Hispanics saw outsized impact of the Covid crisis, losing nearly 3 years and 2 years in life expectancy, respectively.
—Sara Salinas
More than 15 million people in the U.S. have received two shots of Covid vaccine
More than 15 million people in the U.S. have received both shots of a two-dose Covid vaccine, according to data from the Centers for Disease Control and Prevention.
Alaska, Connecticut, New Mexico, North Dakota and West Virginia lead the country in terms of second doses administered per 100,000 residents.
Nearly 25 million additional people in the U.S. have received their first vaccines shot, but the drugs developed by Moderna and Pfizer-BioNTech are fully protective only after the second dose.
—Sara Salinas
Read CNBC's previous live coverage here:
Covid updates: Millions of fake N95 masks seized; U.S. investing in variant detection
Copyright CNBCs - CNBC