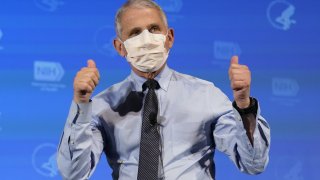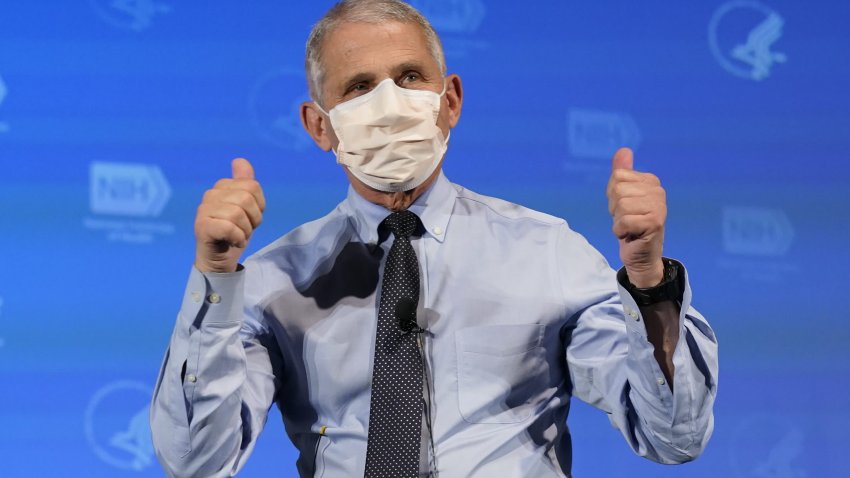 The coverage on this live blog has ended.
The British government on Wednesday confirmed a second new and potentially more infectious variant of Covid-19 has emerged in the United Kingdom. The World Health Organization said the new variant has so far been identified in Denmark, the Netherlands, Northern Ireland and Australia. While much is still unknown about the new strain, neighboring European countries have closed their borders to the U.K.
With the U.S. recording at least 2,000 virus-related deaths a day, on a seven-day average, more Americans are planning to stay home or to travel by car this holiday weekend. AAA predicts at least 29% fewer trips will be taken through Jan. 3, compared with the same period a year ago.
The U.S. is recording at least 212,142 new Covid-19 cases and at least 2,669 virus-related deaths each day, based on a seven-day average calculated by CNBC using Johns Hopkins University data.
The following data was compiled by Johns Hopkins University:
Global cases: More than 78.93 million
Global deaths: At least 1.73 million
U.S. cases: More than 18.49 million
U.S. deaths: At least 326,871
Trump's veto threat is holding up $9 billion in state vaccine funding
States are nervously awaiting $8.75 billion from Congress' latest relief package to fund the distribution of coronavirus vaccines, but the money is currently on hold after President Donald Trump's last-minute veto threat.
"We're concerned because this is money we needed in the spring. It's now the end of December," said Adriane Casalotti with the National Association of County and City Health Officials. 
Time is of the essence now that two vaccines from Pfizer and Moderna are on their way to the arms of the first few millions of Americans. Vaccine distribution efforts will require additional personnel for vaccination clinics, adequate resources to safely store doses at ultra-low temperatures, needles and other critical supplies and enhanced communication efforts to convince people of the drugs' safety, among other costs, experts say.
"Every minute of delay impacts how many people can get the vaccine and when, so we urge the president to sign the bill as quickly as possible," Casalotti said.
—Noah Higgins-Dunn
Marsh & McLennan CEO expects mandatory Covid vaccinations to be very rare
Marsh & McLennan Companies Chief Executive Dan Glaser told CNBC he believes many companies do not have "an appetite" for mandatory Covid-19 vaccinations among employees.
"Don't get me wrong: CEOs want their employees vaccinated, but I think that mandates are going to be very rare," he said on "Squawk Box."
Companies such as Ford and General Motors have already indicated they will not require employees to be vaccinated against Covid-19.
Marsh & McLennan, a New York-based consulting firm and insurance broker, has been advising clients to strongly encourage vaccines, according to Glaser.
"We all want to return to a more normal way of life ... and vaccines are really required for that," he said.
— Kevin Stankiewicz
Millions poised to lose jobless benefits after Christmas
Millions of workers are poised to lose income support from unemployment programs ending in a matter of days, as the fate of a $900 billion Covid relief package hangs in limbo.
The bill offers 11 weeks of extra jobless benefits to workers in programs scheduled to end this weekend. Around 14 million people — self-employed and gig workers and people who exhausted state benefits — would be affected.
It's unclear whether President Donald Trump will sign the legislation. He called the relief bill a "disgrace" earlier this week.
A gap in benefits is inevitable for many workers even if the bill soon becomes law, according to state labor officials. That may mean increased difficulty paying bills and putting food on the table.
—Greg Iacurci
GOP congressman says Trump's delay of relief bill hurts struggling Americans
President Donald Trump's last-minute opposition to the Covid stimulus package approved by Congress earlier this week is hurting struggling Americans, said GOP Rep. Tom Reed of New York.
"I understand the frustration of the president ... but blind-siding folks and doing this at the last second, to me, is not conducive because the American people are the ones who lose in this fight," Reed said on CNBC's "Squawk Box."
Reed, who co-chairs the bipartisan Problem Solvers Caucus, lamented that Trump's opposition comes after months of negotiations.
"What we should be doing is focusing on where we agree — $900 billion of emergency relief ... needs to go out to the people today. We all agree on that. We worked on that. We found common ground," Reed said. "The idea of increasing the checks, we can potentially deal with that later."
—Kevin Stankiewicz
United will require negative test results before London-U.S. flights
United Airlines is the latest carrier to require passengers to present negative Covid-19 test results before flights from London to the U.S. as authorities fret about a highly contagious new strain of the coronavirus.
Starting Monday, United customers booked from London Heathrow to United's hubs of Newark, New Jersey, Washington D.C., or Chicago, will have to show negative results that were obtained within 72 hours of the flight's departure.
Earlier this week, Delta Air Lines, its partner Virgin Atlantic, and British Airways launched similar requirements for travelers flying from London to New York's John F. Kennedy International Airport, at the request of New York Gov. Andrew Cuomo.
—Leslie Josephs
U.S. air travel hits new pandemic high despite health warnings
The Transportation Security Administration screened nearly 1.2 million people at U.S. airports on Wednesday, the highest number since mid-March, despite government health officials' warnings against travel over the holidays.
The Centers for Disease Control and Prevention earlier this month recommended postponing holiday travel as coronavirus cases spiked. The CDC added that if people decide to travel they should be tested for the virus before and after the trip, and observe quarantine.
Airline executives have said that bookings in general have weakened, in spite of the holiday burst, and that they expect to continue to lose money into 2021. Wednesday's TSA screenings were down more than 60% compared with Dec. 23, 2019.
—Leslie Josephs
Testing delays, staff shortages impede distribution of antibody treatments
Monoclonal antibody treatments have shown promising signs in fighting Covid-19 if given early on in infection, but the drugs aren't being widely used by the general public. A shortage of staff that can administer the drugs, which have to be given via IV drips, combined with delays in testing have limited their use, hospital administrators and public health specialists said.
One of the key difficulties with the antibody treatments is that they appear to have the biggest benefit when given to patients early on, said Marta Wosinska, deputy director at the Duke-Margolis Center for Health Policy.
"We need to infuse this drug within seven days of symptoms, but patients generally don't seek care until they're quite ill," she said. "We have been telling patients if you're not really sick don't come to the ER. Stay at home, take care of yourself, isolate. And here we actually want to capture patients really early."
Michael Ganio, senior director of pharmacy practice and quality at the American Society of Health-System Pharmacists, said delays around testing limit the "window for infusion."
—Will Feuer
U.S. stocks open shortened Christmas Eve session slightly higher
U.S. stocks opened slightly higher on the final trading day of the holiday-shortened week, reports CNBC's Yun Li and Pippa Stevens. The Dow Jones Industrial Average rose just 50 points, While the S&P 500 traded 0.2% higher. The Nasdaq Composite was up 0.2%.
The market will close early at 1 p.m. ET and will be closed on Friday in observance of Christmas.
—Melodie Warner 
California becomes first state to surpass 2 million Covid cases
California has become the first state to surpass the grim milestone of 2 million coronavirus cases since the beginning of the pandemic, according to data compiled by Johns Hopkins University.
The state has now recorded more than 2,010,000 cases as of Thursday morning, adding 1 million cases in just six weeks, according to Hopkins data. California is reporting a record weekly average of 44,823 new cases every day, nearly a 37% increase compared with a week ago, according to a CNBC analysis of Hopkins data.
Capacity in California's intensive-care units has been falling, triggering stay-at-home restrictions to ease the burden from more patients. The state is also reporting a record number of Covid-19 hospitalizations, reaching a weekly average of 17,392 currently hospitalized patients as of Thursday, according to a CNBC analysis of data compiled by The Atlantic's Covid Tracking Project.
—Noah Higgins-Dunn
'Dr. Anthony S. Fauci Day' proclaimed by Washington mayor
Washington D.C. Mayor Muriel Bowser proclaimed Dec. 24 as "Dr. Anthony S. Fauci Day" to celebrate his 80th birthday and his work to promote public health.
"Dr. Fauci has been a hero to our nation during this incredibly difficult year, working tirelessly to save lives and guide our nation's response to and recovery from the pandemic," Mayor Bowser said in a statement. "We are incredibly proud to count him among the many DC residents who are sacrificing so much to keep our communities healthy and safe. I issue this honor on behalf of all Washingtonians in gratitude and recognition of Dr. Fauci's service to our nation and our city."
Dr. Fauci has served as the director of the National Institute of Allergy and Infectious Diseases since 1984 and has advised six presidents on HIV/AIDS and many other health issues. More recently, he has been a leading voice as a member of the White House Coronavirus Task Force.
—Melodie Warner 
Some Americans still making travel plans travelers for the new year
Officials are urging against traveling for the holidays. But, CNBC's Seema Mody reports how some Americans are still venturing out and making travel plans well into the new year.
—Melodie Warner 
NBA game postponed after Houston Rockets didn't have enough players
The NBA was forced to postpone a game between the Houston Rockets and Oklahoma City Thunder Wednesday night because the Rockets did not have the eight players required by the league. Three Rockets players tested positive or had inconclusive tests and four more players were quarantined.
—Melodie Warner
Read CNBC's previous coronavirus live coverage here: 
Covid updates: New variant Covid case confirmed in Northern Ireland; 1 million vaccinated in America
Copyright CNBC