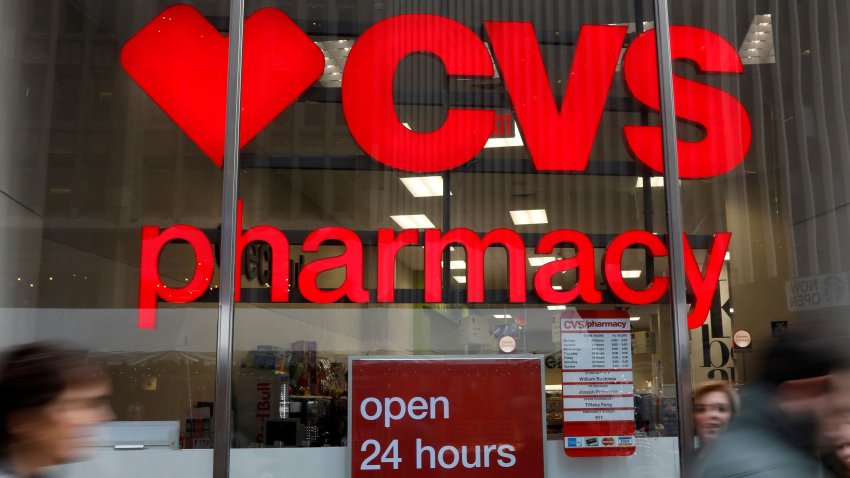 The coverage on this live blog is now closed.
Daily new Covid cases in the U.S. are consistently trending downward, with new infections 24% lower than this time last week, according to a CNBC analysis of Johns Hopkins University data. Virus-related daily death tolls are also improving, now 10% lower than last week's figures. Of U.S. states and D.C., only Alaska is experiencing a jump in cases, and only Vermont is seeing record high hospitalizations, according to CNBC's analysis.
Here are some of the biggest developments Thursday:
The U.S. is recording at least 104,300 new Covid-19 cases and at least 2,770 virus-related deaths each day, based on a seven-day average calculated by CNBC using Johns Hopkins University data.
The following data was compiled by Johns Hopkins University:
Global cases: More than 107.64 million  
Global deaths: At least 2.36 million
U.S. cases: More than 27.36 million
U.S. deaths: At least 474,554
Trump's coronavirus case was worse than disclosed, NYT says
Then-President Donald Trump was suffering more serious effects from Covid-19 in October than what was being publicly acknowledged at the time, The New York Times reported.
The Times said that Trump had "extremely depressed" blood oxygen levels, and a lung condition known to occur in coronavirus-caused cases of pneumonia.
He was so sick, officials feared he would have to be placed on a ventilator, the newspaper said, citing four people familiar with the situation.
Trump spent three days in the Walter Reed National Military Center a month before his election loss to Joe Biden.
—Dan Mangan
White House has acquired 200 million more vaccine doses, report says
President Joe Biden is expected to announce Thursday that his administration has secured deals for another 200 million doses of Covid-19 vaccine, The Washington Post reported, citing three sources.
The White House and the National Institutes of Health didn't immediately respond to requests for comment. Though, chief of staff Ron Klain appeared to confirm the news, retweeting the Post article from his official White House Twitter account.
The new deals would bring the total number of doses to 600 million, enough to inoculate 300 million people. Both Pfizer's and Moderna's authorized vaccines require two doses given about three to four weeks apart.
The schedule for delivery of the additional doses was not immediately clear, according to the Post.
—Berkeley Lovelace Jr.
New Zealand will receive first batch of Covid vaccines next week, prime minister says
New Zealand will receive its first batch of Pfizer-BioNTech coronavirus vaccines next week, Prime Minister Jacinda Ardern said Thursday.
Ardern noted the shipment's arrival was ahead of schedule and said the country plans to start vaccinating border workers on Feb. 20.
"This will be New Zealand's largest-ever vaccination campaign," Ardern said in a news conference. "Never before have we vaccinated our [population] of 5 million in such a short space of time. It is going to take all year to reach everyone."
New Zealand is one of the few countries that was able to effectively mitigate the virus spread. Only 25 Covid deaths have been reported in the country along with just 2,323 infections, according to data from Johns Hopkins University.
Over the past month, just 104 cases have been reported, while the U.S. is averaging more than 100,000 daily infections.
—Fred Imbert
CVS and other retailers on how they handle surplus Covid-19 vaccine doses
The federal government will start shipping out 1 million Covid-19 vaccine doses to pharmacies nationwide starting Thursday. Major retailers such CVS and Walmart will then have to decide how to handle any surplus of doses
The Wall Street Journal reported these companies are strategizing their vaccine distribution methods by implementing waitlists and are considering giving the extra doses to their qualified employees.
A Walmart spokesperson told CNBC the company has developed a protocol to distribute surplus doses to to eligible individuals, including employees, in order of priority.
On the other hand, Walgreens will give priority to its employees when distributing any leftover shots. After that, the company will work with with state and local officials to dole out any remaining vaccines, a Walgreens spokesperson said.
CVS Senior Vice President Chris Cox told CNBC the company will will have a list of patients who qualify for a shot under states' criteria, which they will use to determine who receives any leftover doses.
Read the full story in The Wall Street Journal.
—Katie Tsai
The latest on U.S. vaccination progress
Germany will reimpose border controls with Czech Republic and Austria
Germany will reimpose temporary border controls with the Czech Republic and parts of Austria on Sunday, the Associated Press reports, citing German news agency dpa.
Travelers entering the country from certain neighboring regions will have to present proof of a negative Covid test. The plan could involve border posts that would serve to reject travelers who don't provide officials with a negative result.
German Chancellor Angela Merkel earlier agreed to extend the country's pandemic lockdown until at least March 7.
—Rich Mendez
When Covid vaccines could become available at chain pharmacies
The federal government began shipping 1 million doses of Covid vaccines directly to retail pharmacies across the country Thursday, as part of the Federal Retail Pharmacy Program.
The plan includes major chain pharmacies and grocery stores with pharmacies, such as Walgreens, CVS Pharmacy and Rite Aid, as well as Walmart, Costco, Kroger and Publix.
CVS started giving out Covid vaccines in 11 states on Thursday. Walgreens will start administering vaccines at 15 of its pharmacies on Friday. People eligible for the vaccine will need to make appointments on the corresponding pharmacy's website.
In the program's early days, many pharmacies may see very limited supply, according to the CDC.
—Cory Stieg
Pelosi expects Covid relief plan will be done within weeks
As Congress tries to help streamline Covid-19 vaccine distribution and provide more relief to jobless Americans, House Speaker Nancy Pelosi expects the next pandemic aid bill to become law within weeks.
The California Democrat told reporters that she thinks Democrats' $1.9 trillion rescue package will pass before March 14, when key jobless benefits expire. The House proposal as currently structured would extend a federal unemployment supplement at $400 per week through Aug. 29, and keep programs expanding eligibility for benefits in place through the same date.
Separately, Pelosi said the House bill would include a $15 per hour minimum wage. Senate Majority Leader Chuck Schumer, D-N.Y., said he is working to make sure the proposal would be allowed under a special process the Senate is using to pass the legislation with only Democratic votes.
Schumer also appeared to back the House's proposed structure for $1,400 direct payments. It would send the full sum to individuals who earn up to $75,000 and couples who make up to $150,000, then phase the checks out completely at $100,000 and $200,000 in income, respectively.
—Jacob Pramuk
WHO says it's too early for strict 'zero-Covid' social restrictions in Europe
Some experts have called for a strict "zero-Covid" strategy, which would impose strict lockdowns, social restrictions and travel bans in a bid to eradicate all Covid-19 cases before reopening public and business life, CNBC's Holly Ellyatt reports.
Yet, the World Health Organization has said it is much too early and tricky to implement the strategy in Europe.
"Elimination is something we want, in principle, for any disease, for any pathogen, and it can be a very powerful working incentive. But whether we are at the stage now — to put targets for a 'zero Covid' strategy — is still a different ball game," said Dr. Hans Henri P. Kluge, the WHO's regional director for Europe.
Countries like New Zealand and Australia implemented the hardline strategy early in the pandemic and inspired countries like Ireland to call for the zero-Covid strategy although there is dissent given Northern Ireland's open border with the rest of the U.K.
— Rich Mendez
This Valentine's Day, Covid takes aim at couples
As Valentine's Day approaches, many couples must confront the heavy toll Covid-19 has taken on their relationship and money matters.
With less disposable income, spending on Valentine's Day gifts this year is set to fall from a record $196 in 2020 to $165 on average per person, according to the National Retail Federation.
Of course, the amount couples plan to spend does increase depending on how long they've been Facebook official, according to a separate study from RetailMeNot.
While adults who have been dating for two years or more will spend $156 on Feb. 14, engaged couples will shell out $243, newlyweds will spend $317 and those who've been married for a decade or longer are planning to spend $467.
Almost four in 10 Americans said they plan to skip the holiday altogether in order to save money, according to another survey from LendingTree.
—Jessica Dickler
Nearly 11 million Americans may lose unemployment benefits in April
About 10.6 million Americans are set to lose unemployment benefits unless more Covid relief is delivered, reports CNBC's Greg Iacurci.
A Century Foundation analysis revealed a grim future for unemployed Americans unless lawmakers pass President Joe Biden's $1.9 trillion pandemic relief proposal.
The president's proposal would extend unemployment benefits until Aug. 29 and include a $400-a-week boost to jobless benefits.
Democrats have warmed up to Senator Bernie Sanders' calls to pass the Biden relief plan without Republican votes via the reconciliation process. The process was used by Republican lawmakers in 2017 to overhaul the country's tax code.
—Rich Mendez
Roche arthritis drug reduces death in hospitalized patients with severe Covid
A drug commonly used to treat people with rheumatoid arthritis appears to reduce the risk of death in hospitalized patients with severe Covid-19, especially when it was combined with the steroid dexamethasone.
Tocilizumab, an intravenous drug manufactured by a division of Swiss drugmaker Roche, also shortened patients' length of stay at hospitals and reduced the need for a ventilator, according to new findings from researchers at the University of Oxford.
Results from the Oxford study have not yet been published in a peer-reviewed journal.
"Previous trials of tocilizumab had shown mixed results, and it was unclear which patients might benefit from the treatment," Peter Horby, a professor at the University of Oxford and joint chief investigator for RECOVERY, said in a statement. "We now know that the benefits of tocilizumab extend to all COVID patients with low oxygen levels and significant inflammation."

—Berkeley Lovelace Jr.
NBC News launches "Plan Your Vaccine" tool for customized vaccination information
With various Covid-19 vaccine eligibility rules around the country, NBC News has launched a customizable state-by-state guide to help Americans navigate when and where they can receive their Covid vaccine.
The online tool asks for your state, occupation and age group to show a graphic detailing your eligibility in every state, as well as how many people have been immunized in each state. The tool compiles data from state health departments and the Centers for Disease Control and Prevention.
The tool also reports the latest vaccine news in your state, immunization requirements and a list of pharmacies and distribution centers.
Check out the Plan Your Vaccine tool here.
—Rich Mendez
PepsiCo earnings beat estimates as it learned to navigate the pandemic
PepsiCo's fourth-quarter earnings topped estimates as the pandemic fueled snacking and higher sales of drinks like Gatorade Zero and Bubly sparkling water, reports CNBC's Amelia Lucas.
PepsiCo Vice Chairman and Chief Financial Officer Hugh Johnston joined "Squawk Box" to discuss what the company learned.
—Melodie Warner
Coronavirus shutdowns led to $60 billion chip shortage for auto industry
An ongoing semiconductor chip shortage is expected to cut $60.6 billion in revenue from the global automotive industry this year, according to consulting firm AlixPartners.
Much of the problem begins at the bottom of the automotive supply chain involving "wafers," which are the base for the semiconductor chips. They're extremely important components for new vehicles.
The source of the shortage dates to early last year when Covid caused rolling shutdowns of vehicle assembly plants. As the facilities closed, the wafer and chip suppliers that produce the semiconductor chips diverted supplies to other sectors such as consumer electronics.
But demand for new vehicles was more resilient than expected during the shutdowns and pandemic, so the industry recovered far quicker than anyone expected. That led to automakers needing more semiconductor chips than expected that couldn't be met.
A 26-week lead time is needed to build the chips before they are installed in a vehicle, according to officials.
—Michael Wayland
U.S. weekly jobless claims improve to 793,000
U.S. weekly jobless claims improved slightly last week, totaling 793,000 initial filings. Economists polled by Dow Jones had expected a print of 760,000.
The labor market has been attempting something of a comeback after historic unemployment amid coronavirus closures. The national Covid crisis is improving, but new strains first detected in the U.K., Brazil and South Africa could threaten sustained recovery.
—Sara Salinas
British variant on course 'to sweep the world,' UK scientist says
A variant of the coronavirus that first emerged in the U.K. — and has since been identified in over 80 countries — could become the dominant form of the virus worldwide, according to the head of the U.K.'s genetic surveillance program.
"The new variant has swept the country and it's going to sweep the world, in all probability," Professor Sharon Peacock, director of the Covid-19 Genomics UK Consortium, said.
"In the future, I think the key is going to be if something (a variant) is particularly problematic with the vaccines," she told the BBC's Newcast podcast.
—Holly Ellyatt
Expert says you need to stop feeling guilty in lockdown
While it's easy to berate yourself for not using every moment at home productively during the pandemic, one professor believes we need to get over this guilt for what's been wrongly labeled as "laziness."
Devon Price, author of "Laziness Does Not Exist" and a professor at Loyola University of Chicago's School of Continuing and Professional Studies, told CNBC that many people likely feel guilty about their productivity levels in lockdown because of "psychological anchoring." Price explained that humans are unable to be fully objective and therefore use external cues as an "anchor" to help us gauge whether we are spending our time well enough.
In Price's book, the professor explained that even before the pandemic there existed a "social epidemic," which they call the "laziness lie."
Price explained that this is a "deep-seated, culturally-held belief system" which has caused people to believe that they are inherently lazy and must work hard to overcome this tendency.
—Vicky McKeever 
Read CNBC's previous live coverage here:
Covid updates: New York arenas can reopen later this month; NJ governor quarantines
Copyright CNBC