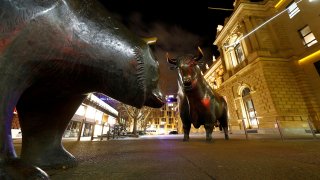 This is CNBC's live blog covering European markets.
LONDON — European markets closed higher on Wednesday as investors digested euro zone economic data and awaited the U.S. Federal Reserve's latest meeting minutes.
The pan-European Stoxx 600 index provisionally closed up 0.7%, extending its gains later into the session.
Travel and leisure stocks rose 1.9%, retail and mining stocks both added around 1.8%, and technology stocks were up 1.4%.
The European blue chip index closed Tuesday's session up 0.8% at its highest level in three months, while markets in Asia-Pacific advanced on Wednesday, tracking overnight gains on Wall Street.
U.S. stocks rose in early trade as investors look ahead to the publication of minutes from Fed's November meeting, seeking clues on the direction of monetary policy.
Global markets have taken some heart from recent, lower-than-expected consumer and wholesale inflation prints in the United States, prompting bets that the Fed would have to slow its aggressive interest rate hikes.
European investors were also inspecting Wednesday's flash November PMI (purchasing managers' index) readings from the euro zone, which reaffirmed that the 19-member currency bloc has entered recession, but showed the downturn in business slowing slightly.
European markets close 0.6% higher; travel and mining gains offset Credit Suisse fall
The pan-European Stoxx 600 index closed up 0.6%, led by gains in travel and leisure stocks, up 1.9%, and mining, up 1.8%.
Embattled Credit Suisse was the worst-performing stock, shedding 6% after approving a 4 billion Swiss franc ($4.2 billion) capital raise set to fund its massive strategic overhaul.
German software company Nemetschek topped the index with an 8% rise. It launched a new cloud-based service on Tuesday.
— Jenni Reid
Stoxx 600 continues to trade at 3-month high
The Stoxx 600 index extended its rally in afternoon trading to notch its highest level since Aug. 19.
Gains were led by mining stocks, up 1.8%, travel stocks, up 1.5%, and technology and retail stocks, both up 0.4%.
Despite recent gloomy economic data, low consumer confidence and the increasing cost of living in Europe, markets have brightened following a lower-than-expected U.S. inflation reading anticipating a slower pace of interest rate hikes.
Meanwhile, Purchasing Managers' Index figures for the euro zone published Wednesday improved slightly from the prior month.
Banking group Unicredit said the reading "dispels fears of a severe slump and is consistent with a mild technical recession at the turn of the year."
— Jenni Reid
Stocks open slightly higher in last full trading day of week
Stocks ticked up at Wednesday's open in the last full trading day of the week. Markets will be closed Thursday for the Thanksgiving holiday and will close early on Friday.
The Dow Jones Industrial Average rose 98 points, or 0.29%. The S&P 500 gained 0.27% and the Nasdaq Composite increased 0.45%.
—Carmen Reinicke
Stocks on the move: Nemetschek up 7%, Endesa down 6%
Shares of Nemetschek climbed 7.5% by early afternoon after the German software company launched a new cloud-based service on Tuesday.
At the bottom of the index, Spanish power utility Endesa dropped more than 6% after new 2023-24 targets failed to excite analysts.
EBRD: Real risk of European firms being unable to withstand debt burden
Beata Javorcik, chief economist at the EBRD, discusses the European Bank's Energy Transition Report 2022-23.
Swiss pension fund foundation CEO says he's 'not convinced' by Credit Suisse restructure
Vincent Kaufman, CEO of the Ethos Foundation, which represents hundreds of Swiss pension funds that are active shareholders in Credit Suisse, criticizes the bank's strategic overhaul and treatment of existing shareholders ahead of a key vote.
Recession will likely be an inch deep, but a mile wide, UBS strategist says
Bhanu Baweja, chief strategist at UBS Investment Bank, speaks to CNBC's "Squawk Box Europe."
Goldman Sachs: Energy crisis will push euro zone into 'shallow' recession
Sven Jari Stehn, chief European economist at Goldman Sachs, says the energy crisis will push the euro zone into a "fairly shallow" recession next year. However, he adds that the region is "roughly" at peak inflation, with price rises expected to fall closer to 3% next year.
This is a good time to be investing when asset prices are as low as they are, Yogi Dewan says
Yogi Dewan of Hassium Asset Management says this is a good time to be investing when asset prices are as low as they are.
Euro zone PMIs point to recession but slowdown eases
Euro zone November flash PMI (purchasing managers' index) readings on Wednesday reaffirmed that the 19-member currency bloc has entered recession, but the downturn in business slowed slightly.
S&P Global's flash composite PMI, which encompasses services and manufacturing and is seen as a reliable gauge of economic health, rose to 47.8 in November from 47.3 in October, defying projections in a Reuters poll for a fall to 47.0.
Any reading below 50 represents a contraction in activity, and November was the fifth consecutive month of shrinkage.
In the U.K., the composite index was little changed at 48.3 in November from 48.2 in October.
"Although business expectations rebounded from the 30-month low in October – which was probably linked to the improving domestic political situation – current activity remains under severe strain from weak confidence, costs pressures and tight financial conditions," Berenberg economists Holger Schmieding and Kallum Pickering said in a note.
"Much like in the euro zone, companies are still adding jobs. However, as labour market activity often lags broader economic trends, the slowing pace of job creation is probably an ominous sign that employment will eventually start to fall as the recession deepens through winter."
- Elliot Smith
Credit Suisse shareholders greenlight $4.2 billion capital raise
Credit Suisse shareholders on Wednesday approved a 4 billion Swiss franc ($4.2 billion) capital raise aimed at financing the embattled lender's massive strategic overhaul.
Credit Suisse's capital raising plans are split into two parts. The first, which was backed by 92% of shareholders, grants shares to new investors including the Saudi National Bank via a private placement.
The new share offering will see the SNB take a 9.9% stake in Credit Suisse, making it the bank's largest shareholder.
The second capital increase issues newly registered shares with pre-emptive rights to existing shareholders, and passed with 98% of the vote.
- Elliot Smith
Credit Suisse shares down 5% after restructure update
Credit Suisse shares fell more than 5% on Wednesday after the embattled Swiss lender projected a 1.5 billion Swiss franc ($1.6 billion) loss in the fourth quarter and flagged further net outflows from its wealth management division.
Shareholders will vote on the group's radical restructuring plans at an extraordinary general meeting on Wednesday.
Stocks on the move: Johnson Matthey down 6%, CTS Eventim up 4%
Johnson Matthey shares fell more than 6% to the bottom of the Stoxx 600 in early trade after the British chemicals group posted a fall in half-yearly profit, with supply chain pressures weighing on production volumes for the company's automotive customers.
At the top of the index, German entertainment company CTS Eventim added 4%.
- Elliot Smith
Credit Suisse sees $1.6 billion fourth-quarter loss, holds shareholder vote on restructure
Credit Suisse on Wednesday projected a 1.5 billion Swiss franc ($1.6 billion) fourth-quarter loss as it undertakes a massive strategic overhaul.
The embattled lender last month announced a raft of measures to address persistent underperformance in its investment bank and a series of risk and compliance failures that have saddled it with consistently high litigation costs.
Shareholders will vote on the bank's restructuring and capital raising plans at an extraordinary general meeting on Wednesday.
- Elliot Smith
Here are the opening calls
Britain's FTSE 100 is seen around 12 points higher at 7,464, Germany's DAX is set to add around 25 points to 14,447 and France's CAC 40 is expected to gain around 15 points to 6,673.
CNBC Pro: UBS says self-driving cars could become a $100 billion market in China — and names stocks to play it
Electric vehicles are fast gaining traction, particularly in China, the largest EV market in the world.
But UBS believes autonomous driving will be an even bigger megatrend than electrification — with a market size in China alone of around $100 billion by 2030.
Here's how investors can play this megatrend, according to UBS.
Pro subscribers can read more here.
— Zavier Ong
CNBC Pro: Morgan Stanley lists major firms with potential FTX exposure
Shares in Coinbase came under renewed selling pressure this week on concerns about spillover from FTX's collapse earlier this month.
But many other companies are also exposed to FTX's failure. Wall Street bank Morgan Stanley has identified a slew of additional firms exposed to failed crypto exchange.
CNBC Pro subscribers can read more here.
— Ganesh Rao
CNBC Pro: Goldman says EV batteries are becoming 'critical' and names 2 stock picks
Electric vehicle batteries are gaining "critical importance" amid the energy transition, according to Goldman Sachs.
The investment bank names two top stocks to play the EV battery sector, giving one upside of nearly 70%.
CNBC Pro subscribers can read more here.
— Weizhen Tan
Copyright CNBC