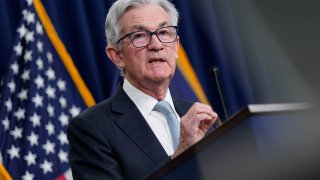 This is CNBC's live blog covering European markets.
European markets remained upbeat on Thursday as investors assessed the latest meeting minutes from the U.S. Federal Reserve.
The pan-European Stoxx 600 closed up 0.5% provisionally, with a third straight session of gains taking it to a more than three-month high. Chemicals stocks added 1.1% to lead gains as all sectors and major bourses edged into positive territory.
Minutes from the Fed's November meeting signaled that the central bank is seeing progress in its fight against high inflation and is looking to slow the pace of rate hikes, meaning smaller ones through the end of this year and into 2023.
"A substantial majority of participants judged that a slowing in the pace of increase would likely soon be appropriate," the minutes stated.
European investors also reacted to Wednesday's flash November PMI (purchasing managers' index) readings from the euro zone, which reaffirmed that the 19-member currency bloc has entered recession, but showed the downturn in business activity slowing slightly.
Overnight, markets in the Asia-Pacific traded higher, reacting positively to the Fed saying it expected to switch to smaller rate hikes "soon."
U.S. stocks closed higher Wednesday ahead of the Thanksgiving holiday.
European markets log third session of gains
European markets closed higher for a third straight session, with the Stoxx 600 index gaining 0.5% on Thursday.
The FTSE 100 was flat while France's CAC 40 climbed 0.4% and Germany's DAX added 0.8%. By sector, gains were led by the chemicals sector, up 1.1%.
The best-performing stock was LEG Immobilien German property company, which rose 6.7% after Morgan Stanley upgraded it to "overweight."
Global markets have been cheered by indications that the U.S. Federal Reserve is looking to slow the pace of interest rate hikes, while in Europe, PMI data this week showed the euro zone's downturn in business slowed slightly.
— Jenni Reid
German property market to slow but will see overvaluations: Central bank
A new report from German's central bank forecasts a slowdown but no significant correction in the housing market.
Claudia Buch, vice president of the Bundesbank, told CNBC: "We do see a slowdown in the price growth for residential real estate, but it's not that the overall dynamic has reversed. So we still have overvaluations in the market."
— Jenni Reid
Stocks on the move: LEG Immobilien up 6%, Bridgepoint up 5%
LEG Immobilien shares climbed 6.5% to lead the Stoxx 600 by mid-afternoon after Morgan Stanley upgraded the German property company's stock to "overweight" from "equal-weight."
British private investment company Bridgepoint Group climbed more than 5%.
Turkey cuts rates by 150 basis points and ends easing cycle
Turkey's central bank on Thursday cut interest rates by 150 basis points to 9% and decided to end its cycle of monetary policy easing, citing increased inflation risks.
The CBRT [Central Bank of the Republic of Turkey] has been under consistent pressure from President Recep Tayyip Erdogan to continue cutting rates despite soaring inflation, which hit 85.5% year-on-year in October as food and energy prices continued to soar.
"Considering the increasing risks regarding global demand, the Committee evaluated that the current policy rate is adequate and decided to end the rate cut cycle that started in August," the central bank said in a statement.
Read the full story here.
- Elliot Smith
German economic sentiment improved in November, Ifo Institute says
The Ifo Institute's German business climate index climbed to 86.3 points in November from 84.5 in October.
"While companies were somewhat less satisfied with their current business, pessimism regarding the coming months reduced sharply. The recession could prove less severe than many had expected," said Ifo President Clemens Fuest.
The index climbed significantly in manufacturing, where companies were less pessimistic about the future, but assessed their current situation as worse, Fuest explained.
"The number of new orders fell again. While uncertainty about future business development remains high, it did fall a little. But in energy-intensive industries, uncertainty rose further," he said.
- Elliot Smith
Sterling breaks above $1.20 as dollar weakens on softer Fed hike expectations
Sterling broke above a key level of $1.20 on Wednesday night as the U.S. dollar softened in response to weak PMI (purchasing managers' index) data and minutes from the last Federal Reserve policy meeting.
The pound gained another 0.3% in early trade on Thursday to trade at around $1.209, while the euro and the Japanese yen also gained ground against the retreating greenback.
- Elliot Smith
Bulgari says wealthier consumers continue to spend despite growing recession fears
Jean Christophe-Babin of Italian luxury fashion house Bulgari Group says while demand for entry-level products tends to contract in recessionary times, higher-end consumers still have disposable income.
Stocks on the move: Elekta down 4%, UMG up 3%
Share price movement was muted throughout the European blue chip index on Thursday morning.
Swedish radiation therapy equipment manufacturer Elekta slid more than 4% to the bottom of the Stoxx 600 after missing second-quarter earnings expectations.
At the top of the index, Universal Music Group nudged 3.3% higher.
- Elliot Smith
CNBC Pro: Betting against a British supermarket, short-seller expects nearly 50% collapse in share price
There's more pain to come for investors in a British supermarket company if short-seller's a prediction comes through.
The hedge fund currently holds a bearish bet worth £32.6 million and expects shares in the grocer to fall by 44%.
The fund's chief investment officer also believes the supermarket will raise fresh capital by diluting shareholders year after year to keep itself afloat in a challenging environment.
CNBC Pro subscribers can read more here.
— Ganesh Rao
CNBC Pro: Asset manager says investors must buy this large-cap stock right now
There's one large-cap stock that investors must buy into right now, according to Rob Luna, chief investment strategist at asset manager Surevest.
He calls its CEO a "significant visionary."
While Luna has picked the one large-cap stock, he advised investors generally to reallocate into smaller names, naming two stocks that he called "best in breed."
CNBC Pro subscribers can read more here.
— Weizhen Tan
European markets: Here are the opening calls
European markets are heading for a higher open Tuesday as investors in the region appear to shrug off concerns among their U.S.and Asia-Pacific counterparts over China's tightening of Covid restrictions, which are continuing to pressure output.
The U.K.'s FTSE index is expected to open 27 points higher at 7,407, Germany's DAX up 33 points at 14,419, France's CAC up 20 points at 6,653 and Italy's FTSE MIB up 70 points at 24,433, according to data from IG.
Data releases include preliminary consumer confidence data for the euro zone in November.
— Holly Ellyatt
Copyright CNBC