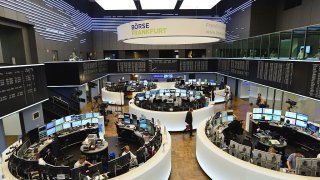 Overall market sentiment was boosted over the weekend by a relaxation of Covid controls in the major Chinese cities of Beijing and Shanghai.
Germany and Spain both reported hotter-than-expected inflation in May.
LONDON — European stocks closed higher Monday as traders took comfort from loosening Covid restrictions in China while also keeping a wary eye on new inflation figures in the region.
The pan-European Stoxx 600 provisionally closed up 0.6%, with tech stocks climbing 2.1% to lead the gains as most sectors and major bourses ended in positive territory.
Looking at individual stocks, shares of Danish hearing aid manufacturer GN Store Nord gained almost 12% to lead the European blue chip index.
Siemens added 2.4% after the German conglomerate's mobility unit struck an $8.7 billion high-speed rail deal in Egypt.
Overall market sentiment was boosted over the weekend by a relaxation of Covid controls in the major Chinese cities of Beijing and Shanghai.
"There was a ripple of relief across European markets after authorities in Shanghai announced a lifting of restrictions from Wednesday, with more production now expected to begin across the manufacturing and tech hub," said Susannah Streeter, senior investment and markets analyst at Hargreaves Lansdown.
"Stimulus measures to kick start Shanghai's economy are also helping to lift sentiment, with hopes that they could help revive corporate and consumer spending."
Overnight, shares in the Asia-Pacific region rose sharply across the board, with Japan's Nikkei 225 adding 2.2% to lead gains ahead of a big week of economic data releases for the region.
Markets in the U.S. are closed Monday for the Memorial Day holiday, after the S&P 500 and the Dow Jones Industrial Average snapped losing streaks to post their strongest week since November 2020.
The U.S. dollar index, which tracks the greenback against a basket of its peers, was hovering below 101.5 on Monday morning. The index earlier notched a five-week low as fears of further aggressive interest rate hikes from the Fed, beyond those expected in June and July, eased over the past week.
Sky-high inflation
On the data front, Spanish inflation jumped to an annual 8.5% by EU-harmonized standards in May, exceeding economist expectations of 8.1% in a Wall Street Journal poll, as fuel and food prices continued to surge.
German inflation also outstripped expectations in May, with harmonized consumer price rises coming in at an annual 8.7%, up from 7.8% in April and ahead of the 8.0% projected in a Reuters poll of analysts.
Euro zone economic sentiment was little changed in May, the European Commission's monthly survey showed Monday, inching to 105.0 from 104.9 in April. Improved services sector optimism offset fading confidence in industry, the data showed.
Subscribe to CNBC PRO for exclusive insights and analysis, and live business day programming from around the world.
Copyright CNBC