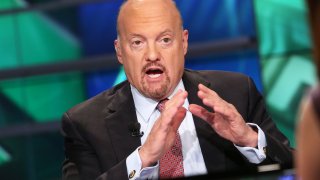 (This article was sent first to members of the CNBC Investing Club with Jim Cramer. To get the real-time updates in your inbox, subscribe here.)
What I am looking at December 15, 2021:
Fed...taper? Tighten? Inflation fears? Supply chain v. commodity v. wage inflation? Let's spell it out...
Big call for club members—United Parcel Service (UPS) upgraded by Citi hold to buy... Citi puts ahead of FedEx (FDX) in pecking order... FDX reports tomorrow after the bell...  UPS now has the discipline... air cargo tightness remains a tailwind... we told club members to believe in CEO Carole Tome into the quarter...
Eli Lilly (LLY)... blowout guidance—many firms looking for a bad number but it was much better…raise numbers for 4th q as well... 2021 non-GAAP EPS prior $7.95 to $8.05—goes to $8.15 to $8.20...Covid antibodies... people were looking for weaker 2022 with tough comps and investments—but they guided $8.50-$8.65 non-GAAP EPS...consensus was $8.13—estimates had come down...  margin improvement: 30% to 32% for 2022.. R&D higher, marketing selling admin up; cancer, diabetes and Alzheimer's...
KeyCorp (KEY) upgraded from sell to buy at Bank of America... highly unusual but there is always an analyst or two who thinks the regionals do better than the majors at this moment... I say buy Morgan Stanley (MS) and Wells Fargo (WFC).
Comcast (CMCSA) downgraded buy to hold at Citi...says hard to unlock sum of the parts...notes elevated investments into direct to consumer and below consensus financial outlook...
Truist says Etsy (ETSY) tracking ahead of expectations... good holiday name but highly valued... they have proprietary data...app usage strong... I continue to believe this is a supply chain winner...
Edwards Lifesciences (EW)... upgraded hold to buy at Citi...will do well because of heart valve business, but you need the pandemic waves to subside...
Hologic (HOLX) buy to hold Citi... first of the big three to be downgraded… HOLX, DHR and TMO.. worries that the rest of the story won't offset Covid machines…
Omicron has jumped sevenfold this week... authorities still trust three-shot regimen... only GlaxoSmithKline (GSK) seems to work against omicron...Pfizer's Paxlovid is our hope—89% effective at reducing risk of hospitalization and death
JPMorgan downgrades Trex (TREX) neutral to sell and upgrades Azek (AZEK) hold to buy.. Faux wood but TREX has better ESG characteristics...
Deutsche Bank AMD (AMD) price target goes from $113 to $120...stock much higher—still believes risk of overshipping... Xilinx (XLNX) PT $195 to $207—why still write about unless you think the AMD-Xilinx deal won't close?... Applied Materials (AMAT) PT raised from $170 to $180-this despite a weak q. last... also raises KLA (KLAC) and Lam Research (LRCX)...
Now it is Mizuho's turn to lower price targets on high multiple: Zscaler (ZS), CrowdStrike (CRWD), Cloudflare (NET), VMware (VMW), Fortinet (FTNT)... guarded optimism but as usual this is about the Fed... and owning high multiple businesses that don't seem to make things or do stuff...
Centene (CNC)... Deutsche Bank likes the corporate governance changes but is this just not liking CEO Neidorff?...
Campbell Soup (CPB) PT raised $44 to 45 at Deutsche Bank, cites analyst meeting... on tonight...
Enbridge (ENB)...on tonight...why can't it make more money with booming natural gas?... and what can it make with ESG constraints?
Neogen (NEOG) ... the 3M (MMM) deal... what does it mean?
I had Bausch Health (BHC) on Mad last night and I think that it is worth far more than 4x earnings... did pay down $10b of the $20b in Valeant debt...
Deutsche Bank loves ON Semiconductor (ON)...this is one of the best names because it has auto...
Bill Ford buys $8.5M Ford (F) shares... Morgan Stanley's Jonas says sell but bull case of $25... investor feedback is positive
JPMorgan cuts numbers Uber (UBER), Lyft (LYFT), DoorDash (DASH), Stitch Fix (SFIX), Roku (ROKU), Pinterest (PINS)... don't make things… don't return capital—not working
Barclays says Apple (AAPL) doing great... Chinese smart phone ministry  likes Apple (Ministry of Industry and Information Technology)... implications strong—supplier demand insane? 
The CNBC Investing Club is now the official home to my Charitable Trust. It's the place where you can see every move we make for the portfolio and get my market insight before anyone else. The Charitable Trust and my writings are no longer affiliated with Action Alerts Plus in any way.
As a subscriber to the CNBC Investing Club with Jim Cramer, you will receive a trade alert before Jim makes a trade. Typically, Jim waits 45 minutes after sending a trade alert before buying or selling a stock in his charitable trust's portfolio. If the trade alert is sent pre-market, Jim waits 5 minutes after the market opens before executing the trade. If the trade alert is issued with less than 45 minutes in the trading day, Jim executes the trade 5 minutes before the market closes. If Jim has talked about a stock on CNBC TV, he waits 72 hours after issuing the trade alert before executing the trade. See here for the investing disclaimer.
 (Jim Cramer's Charitable Trust is long UPS, LLY, MS, WFC, AAPL.)
(Comcast is the owner of NBCUniversal, the parent company of CNBC.)
Copyright CNBCs - CNBC