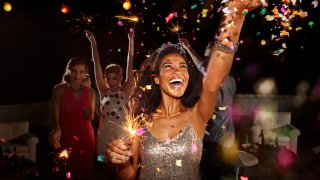 New Year's resolutions can be easy to make and even easier to break, but having a goal can help keep you upbeat and on track financially, according to a Fidelity Investments' survey released on Thursday.
The 2022 New Year's Financial Resolutions Study found people who made resolutions at the start of 2021 are more optimistic about the future than people who didn't. Eighty-one percent of respondents who made resolutions say they will be better off financially in 2022, compared to 58% of those who didn't make resolutions.
Some of that optimism may be a direct result of living through the pandemic. 
"They had to spend less, they really had to think about their finances and plan through all that uncertainty," said Stacey Watson, senior vice president of Life Event Planning, Fidelity Investments.
The Fidelity survey finds 84% of Americans saying that after the Covid experience "they've learned to let go of worrying about that which can't be controlled," according to Watson. And with greater focus on personal goals that are attainable, the survey finds Americans are reaching their goals more often. The percentage of survey respondents who stuck to New Year's resolutions (71%) in 2021 was significantly higher than the previous year's level of follow-through: 58% in 2020.
More from Invest in You:
'Tis the season for holiday bills. Here's how to pay them off
Figuring out these three budget numbers will help you pay off debt in 2022
Here are 5 ways to protect yourself against credit card fraud this holiday season
A rising stock market and government financial relief may have helped some people achieve their goals, but the feeling of control also helped motivate people to make good on physical and mental health goals. Respondents to the Fidelity Survey credited the pandemic with helping them become more thoughtful about saving and spending, closer to family and stronger as individuals.
2022 personal finance outlook
For 2022, the top resolutions are to save more money, pay down debt and spend less.
Looking for a job is top priority for almost half of millennials and Gen Zers who are currently employed. And it's not just about the money, with these respondents citing the search for reduced stress levels, flexibility and "finding a job that better aligns with my personal values."
While the majority felt optimistic about the future, 43% of respondents cite inflation as the No. 1 risk to financial health in 2022. Unexpected expenses and Covid-19's impact on the economy are also key concerns.
The best way to make resolutions, according to Watson, is to focus on things that you are excited about and where passion "is going to fuel your sense of purpose."
She also recommends having a cheerleader to keep you on track, whether it's a financial planner, a partner or a friend or family member.
"That can kind of help you stay on track and keep you accountable and celebrate with you as you do well," she said.
The Fidelity survey was conducted October 18-24, 2021, among 3,031 adults 18 or older, by ENGINE Insights.
SIGN UP: Money 101 is an 8-week learning course to financial freedom, delivered weekly to your inbox.
CHECK OUT: The second most expensive ZIP code in the U.S. is not in California or New York with Acorns+CNBC
Disclosure: NBCUniversal and Comcast Ventures are investors in Acorns.
Copyright CNBCs - CNBC