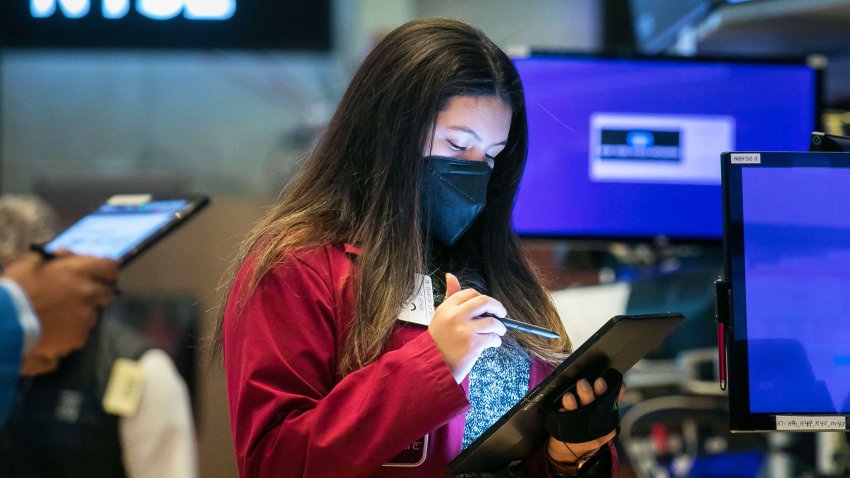 This is the daily notebook of Mike Santoli, CNBC's senior markets commentator, with ideas about trends, stocks and market statistics.
Is the "never short a dull market" rule of thumb in force? After a six-day win streak the market got no more than three straight dull, flat sessions. Shows a steady bid, even if it's tiring.
A lot of broad-market stuff has the look of a rally culminating in the short term – investor positioning pretty extended again, February options expiration next week a plausible exhaustion moment for this phase of the climb, earnings mostly in the books.
This BofA gauge has been resolutely supportive of further upside for months even as others have been saying the market was euphoric/overheated. It's now verging on a contrarian Sell signal, given aggressive inflows and extreme risk positioning across markets.
It so happens the 4000 mark on the S&P 500 (+2% from here) lines up with some timing/cycle/valuation stuff that could make it tough to surmount and stay above.
But the market tone itself is hard to quibble with right now. Leadership Friday by both semis and banks. Treasury yields resuming their uptrend, oil padding its gains, yield curve steeper - supporting the upbeat cyclical story and lifting some value names. Bulls could just be emptying the tank here but that might be overthinking it.
Sell-the-news response to a very good DIS quarter worth noting. The market has already given it credit for getting to its 2024 streaming-dub goal before that target date. At times it dawns on investors that streaming economics are nothing special vs cable or movies.
TSLA buckling under the $800 level, down 6% this week after the Bitcoin gambit. Seems to me pent-up profit-taking after the silly S&P index inclusion ramp and a rethink of management decision-making/priorities. Company arguably has been under-investing in capex and it slides $1.5B into crypto for the kicks and "likes." That's the skeptical take, at least.
Breadth is nothing special today, but modestly positive. We do have a three-day weekend coming up, could mean a listless close. Could also mean VIX might finally leak below 20. Another sign of "culmination" of the rally or a green light for continuation?
Copyright CNBC