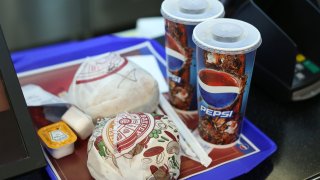 Net sales surged 20.5% year over year to $19.22 billion, topping expectations of $17.96 billion.
Pepsi is seeing a return of demand for its drinks from restaurants and other food-service customers.
PepsiCo on Tuesday reported that its quarterly revenue rose more than 20% from a year earlier as restaurant demand for its drinks returned, fueling an earnings beat.
The company also raised its outlook for its full-year adjusted earnings per share growth.
"A lot of the things we did through the pandemic, continuing to invest in the business, are now paying dividends now that mobility has increased and consumers are getting out more," CFO Hugh Johnston said on CNBC's "Squawk Box" on Tuesday.
Shares of the company rose more than 2% in morning trading, setting a new all-time high. The stock is up 3% this year, giving it a market value of $211 billion.
Here's what the company reported for the fiscal second quarter compared with what Wall Street was expecting, based on a survey of analysts by Refinitiv:
Earnings per share: $1.72 adjusted vs. $1.53 expected
Revenue: $19.22 billion vs. $17.96 billion expected
Pepsi reported net income of $2.36 billion, or $1.70 per share, up from $1.65 billion, or $1.18 per share, a year earlier.
Excluding items, the company earned $1.72 per share, beating the $1.53 per share expected by analysts surveyed by Refinitiv.
Net sales surged 20.5% year over year to $19.22 billion, topping expectations of $17.96 billion. Organic revenue, which strips out the impact of foreign currency, acquisitions and divestitures, rose 12.8%.
The company's North American beverage business reported organic revenue growth of 21%, the highest of all of Pepsi's divisions during the quarter. Volume for its drinks soared 15%, and food service revenue, which includes sales to restaurants, stadiums and college campuses, doubled during the quarter. A year prior, the division's organic revenue fell 7%.
Frito-Lay North America, which includes brands like Doritos and Cheetos, saw organic revenue growth of 6%. Convenience stores and food service channels helped boost sales as consumers became more mobile. The segment has seen strong sales throughout the pandemic. A year earlier, it reported organic growth of 6%.
The Quaker Foods North America business was the only division to report sinking organic revenue. Its volume fell 21%, pushing organic revenue down by 14%. The same time a year ago, the segment saw organic sales surge 23% as consumers ate more breakfast at home, fueling demand for its maple syrup and oatmeal. Pepsi said that the division's organic revenue was up 9% on a two-year basis. Prior to the pandemic, it was the weakest part of Pepsi's business.
Executives said on the quarterly conference call that they are seeing higher costs for ingredients, freight and labor, like most food and beverage companies right now. Johnston said that the company typically raises prices after Labor Day, adding that the pattern would likely continue this year.
"We're working with our partners in the retail space and in the away from home space to make the right decisions in pricing to give the consumers with us as we improve our margins," CEO Ramon Laguarta said.
On the heels of such a strong quarter, the company said it now expects 11% growth in constant currency earnings per share, up from its prior forecast of high-single digit growth. The forecast implies core earnings per share of $6.20 for 2021. Analysts were expecting full-year earnings growth of 7.2%.
Pepsi also narrowed its forecast for 2021 organic revenue growth from mid-single digits to 6%. Johnston told CNBC's Becky Quick that the company tends to provide more conservative forecasts, which could set it up to beat expectations in the second half of the year.
The company also said it is expanding the duration and scope of its five-year productivity program. Through 2026, it now expects to deliver at least $1 billion in annual savings.
"We're obviously taking cost out in certain places, and then we're investing in certain places like digitalizing the supply chain and making our interactions with customers and consumers much more efficient than they were in the past," Johnston told analysts.
Copyright CNBC