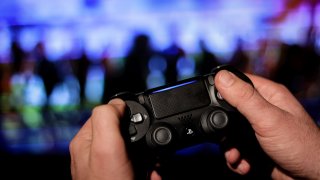 Ubisoft posted sales of 1 billion euros ($1.2 billion) in its fiscal third quarter, doubling year-on-year.
The gaming giant's sales were boosted by new games like Assassin's Creed Valhalla as well as its back catalog.
But the company's shares sank 6% Wednesday morning as it narrowed its guidance for the full year.
LONDON — Ubisoft shares fell 6% Wednesday morning, despite the French video game giant reporting record quarterly sales. The company also narrowed its guidance for the full year.
Ubisoft posted sales of 1 billion euros ($1.2 billion) in its fiscal third quarter, exceeding its own target and more than doubling the 455.5 million euros of sales the company booked in the same period a year ago.
The company said it benefited from a strong slate of new titles, including Just Dance 2021, Assassin's Creed Valhalla and Watch Dogs: Legion. The strong performance was also helped by momentum for next-generation consoles from Sony and Microsoft, which launched in November. 
Ubisoft said its Assassin's Creed Valhalla game delivered record sales for the franchise and was the second-best selling game on the PlayStation 5 and Xbox Series X and S machines. Watch Dog: Legions was the fourth-top selling title on next-gen platforms, Ubisoft said.
But it's not just big new releases that are driving Ubisoft's sales. Ubisoft CEO Yves Guillemot said on the firm's earnings call that it saw "strong engagement" in its back catalog of games as well, adding this trend continued into January.
Rainbow Six Siege, a first-person shooter game Ubisoft released in 2013, now has 70 million players, Chief Financial Officer Frederick Duguet said. That's an increase of 15 million users from last year. Rainbow Six Siege is a popular title in esports tournaments.
"In a context of increasing engagement and very supportive industry trends, the first nine months of the year confirmed that we are continuing to move towards an increasingly pronounced recurrence of our revenues," Guillemot said in Ubisoft's third-quarter earnings release Tuesday evening.
"Therefore, we expect our highly profitable back-catalog to account for an even larger share of our business going forward."
It's a sign of how the video game industry is shifting toward games with a longer lifespan and recurring revenue rather than just relying on big blockbuster hits.
Video game companies have benefited heavily from the coronavirus pandemic, as people are spending more time at home due to public health restrictions around the world.
Ubisoft narrowed its full-year guidance for revenue and profit Tuesday. The company said it now expects 2020/21 net sales of between 2.22 billion and 2.28 billion euros, versus the 2.2 billion to 2.35 billion euros it had previously expected; and operating income of 450 million to 500 million, tighter than its previous 420 million to 500 million euro target.
Ubisoft added it is in the "early stages" of developing a new Star Wars game after announcing a deal with Disney's Lucasfilm Games division. The move marks the beginning of the end of a long-held exclusivity agreement between Lucasfilm Games and Electronic Arts.
EA announced Monday that it was buying mobile game developer Glu Mobile for $2.4 billion. Asked whether Ubisoft would explore mergers and acquisitions to fuel future growth, Guillemot said the firm's approach was mainly to buy new technologies rather than content.
Ubisoft hasn't yet taken a decision on whether to raise the prices of its video games to a new standard of $70, Guillemot said Tuesday. Large publishers like Take-Two Interactive are hiking game prices by $10 for next-gen consoles. It's the first time there's been a major price increase in blockbuster games since 2005, and many figures in the industry say it's long overdue.
Copyright CNBCs - CNBC