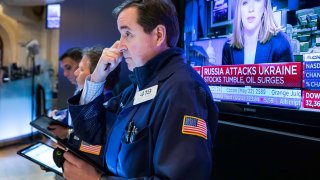 U.S. Treasury yields were mostly lower on Wednesday morning, with investors keeping an eye on the spreads between bonds, after the 5-year and 30-year rates flipped at the start of the week.
The yield on the 5-year Treasury moved down about 4 basis points to 2.442% in afternoon trading, while the rate on the the 30-year Treasury bond was lower by nearly 5 basis points at 2.476%. The yield on the benchmark 10-year Treasury note fell more than 4 basis point to 2.354%. Yields move inversely to prices and 1 basis point is equal to 0.01%.
The yield on the 5-year Treasury rose above that of the 30-year U.S. government bond on Monday for the first time since 2006, but that inversion faded on Tuesday.
Yield curve inversions have historically occurred prior to recessions, though it is the spread between the 2-year and 10-year that is considered more important by traders. This spread effectively became flat on Tuesday, according to CNBC data, while other sources showed the curve briefly inverting.
On Wednesday morning, the 2-year Treasury yield fell along with the 10 year, creating a spread of roughly 3 basis points.
Though the spread is a widely watched recession indicator, not all investment professionals view it as gospel.
"Rather than thinking of the inversion as predicting recession, we believe it is more accurate to say that inversion predicts Fed cuts," Bank of America's Ralph Axel said in a note to clients.
In a speech to the Economic Club of New York, Kansas City Fed President Esther George said the curve didn't necessarily signal a recession but could be a headwind for some banks.
"My concern about an inverted yield curve does not reflect its intensely debated value as a predictor of recession. Rather, my view is that an inverted curve has implications for financial stability with incentives for reach-for-yield behavior," George said.
"An inverted yield curve also pressures traditional bank lending models that rely on net interest margins, or the spread between borrowing short and lending long. Community banks in particular rely on net interest margins to maintain their profitability, with rural areas especially dependent on community banks," George continued.
Wednesday saw several solid economic readings. Payroll services firm ADP said there were 455,000 jobs added in March. Economists surveyed by Refinitiv had penciled in 450,000 new jobs. The final fourth quarter reading for GDP growth came in at 6.9% growth, below the preliminary reading of 7%.
Those releases come ahead of the Labor Department's main jobs report for March on Friday.
"Bottom line, as of right now the labor market is still seeing solid hiring and with demand still outpacing supply. I say 'right now' because labor market stats are always lagging and only follow changes in economic activity. And if the biggest component of US growth, that being the consumer, starts to buckle under the high inflation they are experiencing, then that will eventually impact hiring," Peter Boockvar, chief investment officer at Bleakley Advisory Group, said in a note.
Investors also kept an eye on the conflict in Europe. The Russia-Ukraine war has been driving already rising inflation higher, which investors are concerned could weigh on economic growth.
Sentiment was boosted on Tuesday following negotiations between Russia and Ukraine officials in Turkey, at which Russia's deputy defense minister claimed Moscow had decided to "drastically" cut back its military activity near Ukraine's capital.
Russia had begun to move some of its troops away from the city of Kyiv to elsewhere in Ukraine, but Pentagon Press Secretary John Kirby warned on Tuesday that these movements do not amount to a retreat.
— CNBC's Holly Ellyatt contributed to this market report.
Copyright CNBC