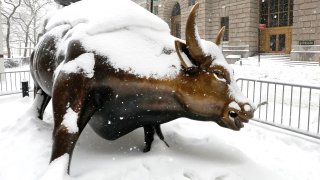 Stocks jumped on Monday, the first session of February, as Wall Street appeared to shake off concerns about a speculative retail trading mania that largely drove the market's worst weekly sell-off since October.
The Dow Jones Industrial Average rose 229.29 points, or 0.8%, to 30,211.91, led by Microsoft and Visa. The S&P 500 climbed 1.6% to 3,773.86, posting its best day since Nov. 24 as all 11 sectors gained. The Nasdaq Composite jumped 2.6% to 13,403.39.
GameStop, the brick-and-mortar video game retailer that has been the center of attention on Wall Street, fell 30.8%. Last week, the popular stock among retailer investors on Reddit forum WallStreetBets soared 400% amid extreme trading volume and volatility. AMC Entertainment — another short squeeze target that jumped 277% last week — closed flat on Monday.
Many on Wall Street were spooked by a frenzy of activity among retail traders in heavily-shorted stocks including GameStop and AMC Entertainment, which caused hedge funds to take off risk across the board even if they weren't directly involved in the trade. Goldman Sachs said that the short squeeze triggered by the buying spree is the most extreme in 25 years. However, some strategists believe it's unlikely that the impact will ripple through Wall Street and derail the new bull market.
"The return of volatility over the past week has been driven by market positioning rather than worries over growth," Mark Haefele, chief investment officer at UBS Global Wealth Management, said in a note.
"Many institutions have been adjusting their books to account for the risks to short positions arising from recent coordinated buying by retail investors. But given the speed and magnitude of flows in recent days, we think most of the pressure is now behind us," Haefele said.
Popular online brokerage Robinhood said Monday it raised another $2.4 billion from investors as the manic retail trading forced its clearinghouse to increase deposit requirements by tenfold last week. The funding could be a sign that investors are confident the broker can ride out the market turmoil.
All three major averages slipped more than 3% last week for their worst weekly performance since October. The Dow and S&P also posted losses for January — the first negative month in three — although the Nasdaq did manage to post a gain for the month.
"Despite the uncertainty surrounding the fallout from the surge in prices for stocks with substantial levels of short interest, we don't see the advent of a 1998-style liquidity crisis," Sam Stovall, chief investment strategist at CFRA, said in a note. "Even though we think the equity market needs to go through a readjustment of expectations and valuations, we don't think the bull has come to an end, nor are we recommending any changes to our year-end S&P 500 target or asset allocation."
The Reddit boom seemed to be spreading to other areas of the market, however. Futures contracts for silver surged as much as 11% and settled 9.3% higher, the biggest one-day jump in 11 years. The Reddit chat room had multiple active threads dedicated to silver, while the phrase "#silversqueeze" was trending on Twitter at one point.
Meanwhile, a group of 10 Republican senators sent President Joe Biden a letter on Sunday, urging him to consider a smaller, scaled-down Covid-19 relief proposal. His current plan calls for $1.9 trillion in additional fiscal stimulus.
The Republican proposal would reduce the size of a new round of checks Biden wants to send to Americans, from $1,400 per individual to $1,000. It would also make the income limits that determine eligibility for the stimulus payments far stricter. For individual filers the checks would start to phase out for those making more than $40,000.
The alternative proposal comes after House Speaker Nancy Pelosi said the chamber will move to pass a budget resolution, the first step toward approving legislation through reconciliation. The process would enable Senate Democrats to approve an aid measure without GOP votes.
—CNBC's Tom Franck, Michael Bloom and Nate Rattner contributed reporting.
Subscribe to CNBC PRO for exclusive insights and analysis, and live business day programming from around the world.
Copyright CNBC