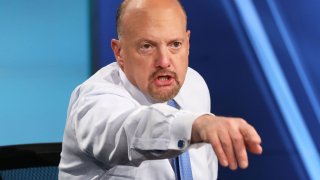 (This article was sent first to members of the CNBC Investing Club with Jim Cramer. To get the real-time updates in your inbox, subscribe here.)
What I am looking at January 3, 2022:
Club mantra: Does it make things and do stuff for a profit?... otherwise shrinking price to earnings multiple...
Wells Fargo (WFC) upgraded by Barclays... Charitable Trust name and the cheapest major bank stock (yes, cheaper than Citigroup because we still aren't sure what's wrong there)... price target goes from $50 to $62, cites improvement in regulatory and costs controls... Is this Charlie Scharf's year... Barclays wants rate sensitivity so downgraded U.S. Bancorp (USB)...But Citigroup (C) PT lowered from $86  to $73...Morgan Stanley (MS) PT $110 to $123 at Barclays—Year of the bank? Could be...valuations are very low...we own this for the trust, has been a good win... JPMorgan (JPM) PT  $193 to $202, citing loan growth to accelerate and margins going higher from net interest... Goldman Sachs (GS) $483 to $556; KeyCorp (KEY) PT $24 to 26; PNC Financial (PNC) upgraded hold to buy, $220 to $250 PT...
Tesla (TSLA) deliveries Q4 308,000 v. 267,000 estimate...full year deliveries top 936,000...price target raised from $250 to $295 at JPMorgan... What did you expect? Can he take it right to $1100? Fourth q earnings estimate at JPM now $2.22 from $1.54...Bernstein's Toni Sacconaghi remains a skeptic, cites  $1million per car valuation…but strong profitability...
Citi takes Pioneer Natural (PXD) PT $216 to $218 on eve of Opec+ production boosts...the year of discipline continues?
McDonald's (MCD)... hold to buy at Piper... PT from $232 to $282, incrementally confident but Restaurant Brands (QSR) downgraded buy to hold $70 to $60...
Apple (AAPL)... Wedbush says iPhone demand looks strong for 2022—China major source of strength... let's not forget the phone companies here giving phones away...demand outstripping supply? 
Regeneron (REGN) upgraded from hold to buy at Bernstein... How can this stock sell for only 9x earnings, $68b market cap?
Big upgrade... PayPal (PYPL) to buy from hold at BMO (charitable trust name and serious underperformer)... analyst cites how stock went from 51x P/E to 28x... but sees 21% annual organic growth...but analyst says should be 34x based on payment stock valuations... PT target $224...
Guggenheim says Nike (NKE) is best idea... Usual yada yada—digital rap… technology…dominant…
BTIG's top picks are Starbucks (SBUX) and Roblox (RBLX)..says SBUX prior sales expectations will be beat; accelerating unit growth... Roblox—new uses gaming, social, advertising, commerce...
Goldman names AMD (AMD), Marvell (MRVL) top semi ideas... but also recommends barbell of Analog Devices (ADI), Micron (MU), ON Semiconductor (ON), Qorvo (QRVO)—more cyclical... SOX index up 41% (latter group have low reasonable multiple)...
Loop is circumspect about specialty hardlines, but likes Best Buy (BBY) and RH (RH) (multiples have really shrunk here)...
Wendy's (WEN)—Stephens top pick... says inflation protection because of franchise model, lots of upside potential....
Amazon (AMZN)... time to buy?... Guggenheim says e-comm v retail improving; some positive sticky consumer trends—big Charitable trust name -significant increase in purchase activity—also good demo...
MKM likes Delta (DAL)... says levered to intl travel, 2022 end of pandemic and prices going up... We own none because of the lack of business travel...
Goldman says go with Microsoft (MSFT) and Salesforce (CRM) as top picks in software... both charitable trust names...
Rocket (RKT)...upgraded to hold from underperform at Wedbush, cites some fast growing initiatives...  Rocket auto and installment lending... been big disappointment...
Broadcom (AVGO)...Piper goes $680 to $750-charitable trust name…
Mizuho says buy Chevron (CVX) and EOG Resources (EOG)... continued robust demand in 2022... I agree –bought CVX because of it for the trust
Constellation Brands (STZ)... PT $275 to $283 at JPMorgan; results Jan 6-material upside on beer demand...
Susquehanna likes the rails—Union Pacific (UNP) (club name), Norfolk Southern (NSC), CSX (CSX)—cyclical optimism-looking for big volume growth...
Bed Bath & Beyond (BBBY)...Wedbush lowers PT $18 to $14... reports Jan 6... expectations are very low... 
The CNBC Investing Club is now the official home to my Charitable Trust. It's the place where you can see every move we make for the portfolio and get my market insight before anyone else. The Charitable Trust and my writings are no longer affiliated with Action Alerts Plus in any way.
 As a subscriber to the CNBC Investing Club with Jim Cramer, you will receive a trade alert before Jim makes a trade. Jim waits 45 minutes after sending a trade alert before buying or selling a stock in his charitable trust's portfolio. If Jim has talked about a stock on CNBC TV, he waits 72 hours after issuing the trade alert before executing the trade. See here for the investing disclaimer.
 (Jim Cramer's Charitable Trust is long WFC, MS, PYPL, MSFT, CRM, AVGO, AMZN, CVX, UNP, AAPL.)
Copyright CNBCs - CNBC