This is Scott Budman's blog from CES. The newest postings appear at the top.
Friday Updates
3:17 P.M.
Just saw the future of 'net to TV interactivity: It comes from a group of Silicon Valley companies .. some of whom can talk about it, some of whom we'll have to show you in about 6 months. That's about when this stuff will come into your livingroom.

Among the companies willing to go on the record .. Adobe Systems. They make software that, along with a chip, lets you take anything from your computer, and put it onto your TV set .. no wires, no subscriptions, and no extra boxes. It's what lots of tech-users (not to mention big screen TV buyers) have been waiting for.

We tried it at the Adobe booth .. lots of videos, movies, websites like facebook, stock charts, super fast, and right on the big screen. All can be handled with your TV remote, and nothing has to be inbetween your PC and your TV.

As for the chip? That comes from the likes of Marvell, another Silicon Valley company you don't think of when you think "consumer," but they make the back end chips to a lot of what you watch. Marvell's chips also make it possible for you to get content directly from the computer to the TV.

Two Silicon Valley companies, about to shake up the world's collective livingroom.

Like lots of what we see here at CES you'll have to wait a little while to use it, but it's on the way.
1:10 P.M.
Hi ..
This is fun, I'm watching Jimmy Fallon walk around with a contraption that puts several cameras on his body; you can see his face, and if he flips a switch, the cameras show the people watching him. Yes, a blatant NBC/Fallon late night plug, but who better to walk around with a giant camera-like creature?

We also just got back from the auto section .. kind of surreal, given how slow auto sales have been lately, but the auto industy is here at CES, hoping the tech industry will come to the rescue. So .. lots of stereo set-ups., lots of cool GPS devices, and lots of computers inside the car. It's almost like the car companies figure, if we make the cars more like your living rooms, people will buy cars again. Maybe.

Also, lots of ways to move the internet are coming. Companies like Adobe, Marvell, and HP, working together to bring the 'net to your big screen, without extra boxes or wires. We saw it in action a little bit ago .. lots of potential there, so expect to see announcements about this hitting the consumer market in about six months or so.

More to come.
10:24 A.M.
I'm playing a video game right now in 3D .. No strings attached, just glasses that work with an infrared signal. It's awesome.
These glasses, $199.00 from Santa Clara's Nvidia, automatically turn your current video game into a 3D experiece. Very cool.

8:26 A.M.
Good morning again from Las Vegas and CES.
The show floor is about to re-open, and we'll be there with more coverage.

Some have (understandably) questioned the need for a CES during a time when the economy is taking
such a hit. It's true, consumers (the focus of the show) are definitely holding back from buying the kind of
cool, sext gadgets that the tech industry is famous for.

So .. why have we seen as may companies here this year, and why are the show floors still crowded?
Perhaps it's because, even in slow times, there is still a hunger about what's coming in the future.
I must say, there is what I'll call a "CES Effect" happening: Palm, for years barely treading water, saw its stock
price jump 35 percent yesterday after unveiling its next smart phone. The morning after? Palm stock is up another
30 percent, even as the rest of the market is down.

I ran a story yesterday on the web about Nvidia, a Silicon Valley company, and its new small device for taking your
technology with you, and the response was huge. Lots of e-mail, lots of blogging, and lots of questions about the device.
The most I've heard about a single product in a while .. and we didn't even put the story on TV. This was from the web (thanks, and
keep the e-mails coming).

We'll try to find the next round of "CES Effects" today for you .. both for the web, and TV.
Here is the wooden monitor I stumbled upon on Friday!
Thursday Updates:
3:37 P.M.
I'm now hanging out at the NBC network area, where we're editing our stories for tonight's newscasts.
Lots of buzz about the Palm announcement .. Palm stock up 35 percent on the news.
We got to show a lot of people the $65,000 turntable .. Love to see jaws drop on that one .. We'll air it tonight at six pm.
What's next? I've been hearing about the push to bring Internet content more easily, quickly, and cheaply to your TV, and we found the companies to do it. We'll likely chase that next, along with whatever else grabs our fancy.
12:05 P.M.
The new Pre will be sold (at least at first) exclusively through Sprint - and it's 3G network.
Not yet available, though.
It will be available "as soon as possible." (cue groan from crowd...)
11:45 A.M.
I must say, I'm impressed with the Palm Pre. Not reinventing the wheel - Palm did that once with the Pilot, then fell way behind Apple and Nokia.
Now, a cool way to get back in the game. Definitely a full computer in your hand .. Some of the web browsing even looks better than any smart phone I've seen before.
Still waiting for price & due date. I'll let you know when they announce.

11:24 A.M.
The Pre is a big-time shot at the iPhone.
Definitely good-looking, thin .. With full slide-out keyboard for testing.
The user interface even looks like the iPhone.
We're still seeing the demo..I'll let you know price & availability when available.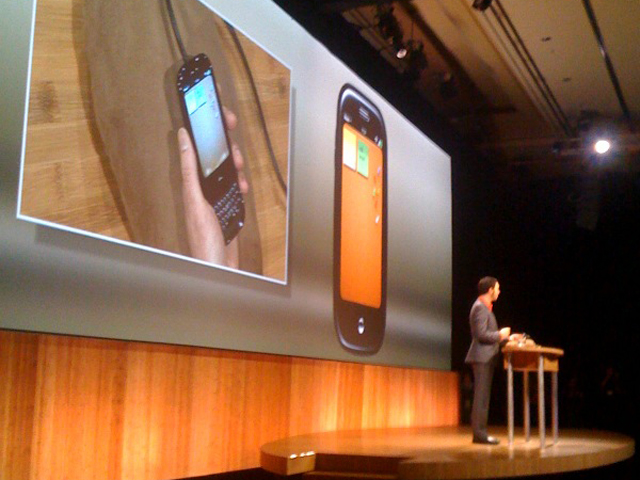 The new "Palm Pre" is debuted at CES in Las Vegas. Budman took this picture with his iPhone, ironically enough.
11:15 A.M.
I'm now at the Palm press conference .. The company is launching something new called the "Palm Web OS," billed as a new device to carry all your info with you.
Device called Palm Pre.
10:21 A.M.
Wow..I just saw the most perfect, ridiculously expensive piece of music hardware on the planet.
It's a turntable with (count 'em) FOUR arms!
If you're a true, true audiophile, this will make you salivate.
Handcrafted in Bologna, Italy (within miles of Ferrarri HQ) the Gabriel from Angelis Labor (work of Angels) will give you true vinyl perfection.
Each arm painstakingly weighted for perfect playing .. sounds great, looks like a beautiful little spaceship.
Oh, and it costs $65,000 American. Only 150 will be made. A rare slice of angelic music heaven.
8:09 A.M.
Good morning, and welcome again to Las Vegas, and CES.
After a late night trying out all sorts of gadgets, Vegas is waking up again, with the final
touches being put onto the convention floor, which opens to the public this morning.

Our day includes what sounds like a huge announcement from Palm .. a Silicon Valley company
that desperately needs something to kick-start its bottom line. We expect to see a new version of
the company's software to take on the Apple iPhone, and give us a whole new round of popular
apps to play with on our phones.

We'll also test out a new piece of technology sure to drive music lovers crazy .. this one combines the
old school and the new .. can't wait to try it out and show it to you.

With the economy as slow as it's been, I've been looking for signs of companies either throwing in the
towel, or feeling at least a bit optimistic. Given that most of the products we're seeing here are meant
for the future, there's a good feeling so far on the floor.

More to come.
------------------------------------------------------
Pictures from CES 2009 in Las Vegas
One of the high tech cars on display at CES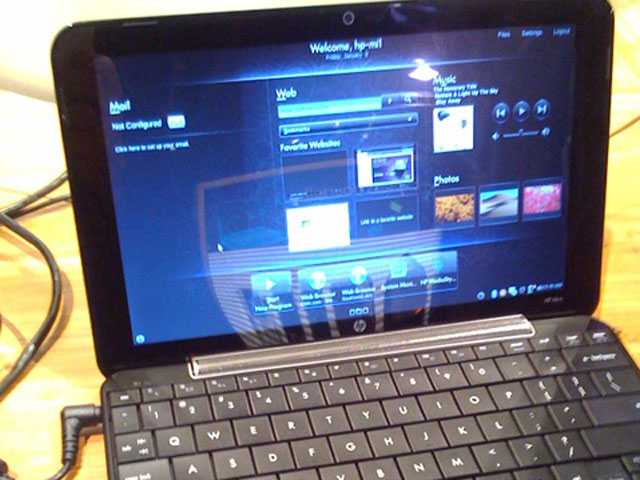 One of the small laptops on display at CES
This is the display screen for one device that brings TV programming to the web.