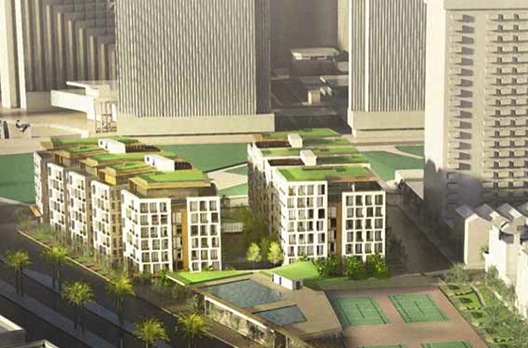 After the showdown on the Transamerica's would-be sidekick, it was easy to forget that there's another major project percolating on Washington Street, similarly within glaring distance of Telegraph Hill.
The 170-unit development at 8 Washington has been in the making for years now, and is being staged on Seawall Lot 351, Port property that's currently being used as a parking lot.
It'll also demolish and replace the adjacent tennis and swim club with a leaner, meaner version. But, just to jog our memories on how potentially ugly this project could be (again), 8 Wash was subject of none other than Drunkdialgate 2007, wherein former supes pres and Telegraph Hill resident Aaron Peskin allegedly called up Port officials and threatened them over disagreements on height limits for the site.
Actually, maybe all hope's not lost. The project's also part of a 10-month study initiated by the current supes pres on how to move forward with development along the northeast Embarcadero — and, says the project spokesman, the public process "has been very interactive."
Everything's different, in fact. In an SFBT story today, the project team says that in comparison to 555 Washington, it's a "whole different ball of wax."
Local developer Emerald Fund agrees, but actually thinks it's more like a "totally different kettle of fish." In any case, things may not be so bad for 8 Washington. Judy Irving, bird lady and board member of the Telegraph Hill Dwellers, says the group hasn't taken a formal position on the development.
And the parrots? "I don't think they care one way or another about tennis clubs."
Copyright CURBD