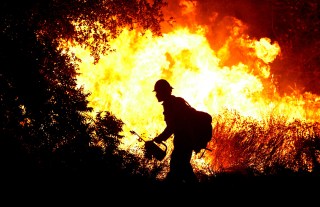 The list below shows the locations of California's 20 largest wildfires.
Each fire includes the cause of the fire, date, location, acres burned, number of buildings damaged and fatalities. The data was compiled by Cal Fire and does not include fires before 1932, when less reliable records were available.
The list includes all fires in California, regardless of whether they were under local, state or federal agencies' responsibility.
Note: The complex of deadly wilfires burning in Northern California are not included in this list. As of Oct. 12, the fires burned an estimated 169,000 acres.
1. Cedar
Cause: Human Related
Date: October 2003
Location: San Diego County
Acres: 273,246
Structures: 2,820
Fatalities: 15
2. Rush
Cause: Lightning
Date: August 2012
Location: Lassen County
Acres: 271,911 California/43,666 Nevada
Structures: None
Fatalities: None
3. Rim
Cause: Human Related
Date: August 2013
Location: Tuolumne County
Acres: 257,314
Structures: 112
Fatalities: None
4. Zaca
Cause: Human Related
Date: July 2007
Location: Santa Barbara County
Acres: 240,207
Structures: 1
Fatalities: 0
5. Matilija
Cause: Undetermined
Date: September 1932
Location: Ventura County
Acres: 220,000
Structures: 0
Fatalities: 0
6. Witch
Cause: Powerlines
Date: October 2007
Location: San Diego County
Acres: 197,990
Structures: 1,650
Fatalities: 2
7. Klamath Theater Complex
Cause: Lightning
Date: June 2008
Location:Siskiyou County
Acres: 192,038
Structures: 0
Fatalities: 2
8. Marble Cone
Cause: Lightning
Date: July 1977
Location: Monterey County
Acres: 177,866
Structures: 0
Fatalities: 0
9. Laguna
Cause: Powerlines
Date: September 1970
Location: San Diego County
Acres: 175,425
Structures: 382
Fatalities: 5
10. Basin Complex
Cause: Lightning
Date: June 2008
Location: Monterey
Acres: 162,818
Structures: 58
Fatalities: 0
Published at 6:18 PM PDT on Sep 14, 2015 | Updated at 7:46 AM PDT on Oct 12, 2017