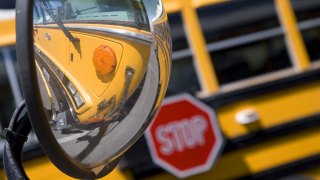 Legislation intended to prevent children from being left unattended on parked school buses is headed to Gov. Jerry Brown.
A bill approved unanimously in the Senate Friday comes in response to the death of a 19-year-old autistic man, Paul Lee of Whittier. Lee was left for hours on a hot school bus.
SB1072 would require school buses to have child safety alarms. The alarm sounds when the engine is turned off and requires the bus driver to walk to the back of the bus to turn it off.
Democratic Sen. Tony Mendoza of Artesia says deactivating the alarm would remind the driver to check for children still on board.
The bill, which has no formal opposition, was approved about a year after Lee was found unconscious inside the school bus parked in a Whittier bus yard on a 90-degree day. Family members said he had could not verbally communicate, but understood cues.
The bus driver in the Whittier case was charged one count of felony dependent adult abuse resulting in death. The driver, a substitute on the route who was working a split shift, believed Lee had left the bus with other students at a high school in the morning, prosecutors said.
He did not check the bus to make sure it was empty after returning to the bus yard, prosecutors said. Lee was not found until the driver returned for the afternoon route.
Lee's family has filed a wrongful-death lawsuit against the bus transportation company. The company has said it implemented additional checks and procedures in the wake of Lee's death.