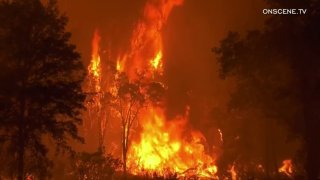 Firefighters and National Guard units early Tuesday airlifted close to 100 people trapped by the Creek Fire in Fresno County and were sending more helicopters to save dozens of others, according to California National Guard.
About 65 people still were stranded as of about 11 a.m. local time Tuesday, officials said.
One person inside the fire zone died of an apparent heart attack, officials said.
Earlier in the morning, National Guard helicopters saved about three dozen people who became trapped after trying to drive out of the forest.
"We've had three rescue operations return, which includes 35 individuals from the Lake Edison area, and we currently have one helicopter en route back to Fresno, with additional evacuees," California National Guard Capt. Jason Sanchez told NBC News.
The mission included Chinook and Black Hawk helicopters with night vision capabilities. Dozens of campers and hikers had hunkered down in the Sierra National Forest late Monday night, surrounded by flames.
Col. David Hall of the Army National Guard, based in Fresno, told NBC News they had helicopters going to four different locations, and the first ones came back with 13 people on board.
"We're going to keep working tirelessly throughout the night until we get as many people out as we can," Hall said.
The people were trapped near Chinese Peak and Lake Edison; it was the second attempt at a rescue. Crews tried earlier, but the smoke made it impossible, officials said.
The fire has scorched nearly 144,000 acres with no containment.
Fire officials are calling it an "unprecedented disaster."