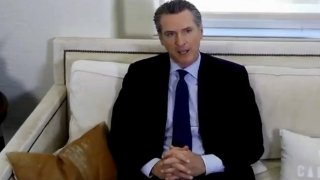 Gov. Gavin Newsom on Friday announced $30.7 million in additional funding to local governments under California's Homekey project for expanding permanent, long-term housing for people experiencing homelessness.
Newsom was joined in a news conference by state, tribal and local leaders to discuss the program's impact on efforts to tackle homelessness in rural communities.
Homekey is a $600 million grant funding program the governor launched in July that distributes funds to counties, cities and other government entities to buy and renovate rooms in hotels, motels and vacant apartment buildings and convert them into long-term housing for the homeless population.
With Friday's awards, the state has now provided all available Homekey funding to local jurisdictions ahead of schedule, the governor's office said. To date, more than $627 million has been awarded to 45 applicants and 71 projects totaling 4,646 units.
"When it comes to homelessness no community is immune, no person is untouched and while the issue is widely thought to affect only our urban centers, the truth is that it occurs in rural areas, small towns and remote parts of our state," Newsom said. "Through Homekey, we are making historic investments that will have lasting impacts in our big cities, but also our small towns and tribal communities. These investments are helping thousands of Californians vulnerable to COVID-19 exposure get access to permanent, supportive housing."
The latest round of funding included $2.2 million toward 18 units for the Yurok Tribe in Humboldt County. The cities of San Luis Obispo and Los Angeles also received funds in the amount of $15 million and $13.5 million, respectively.
The governor is working with the Legislature to make an additional $200 million in coronavirus relief funding available for Homekey.