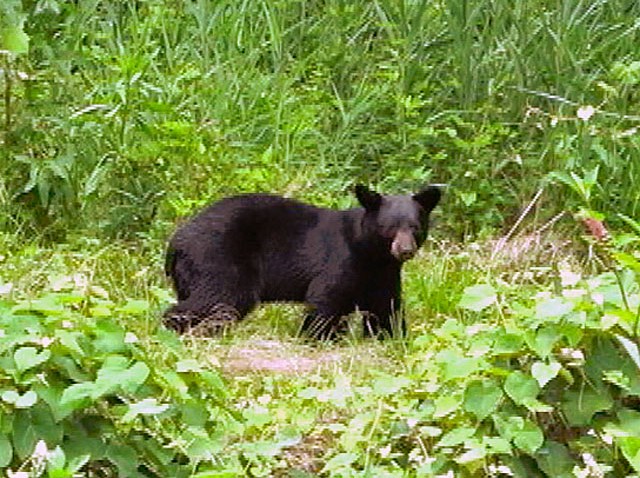 A mother bear and a cub were fatally struck by a car near Reno, state wildlife officials said, and her other two cubs may have survived the accident.
One of the cubs died at the scene while the mother and other cubs left after the collision Thursday night on old Highway 40 in Verdi just west of Reno, said Chris Healy, spokesman for the Nevada Department of Wildlife.
The mother wandered about 200 yards away and laid down under a tree behind an abandoned house, where she was found dead with one of the cubs atop her body on Friday morning, he said. Attempts to capture that cub were unsuccessful.
Officials originally thought the mother had only two cubs, but now believe she may have had three cubs after viewing videotape from a camera later placed near her body, Healy said.
"The camera indicated there may be more than one cub that survived,'' he said Saturday. "We have no way of knowing for sure, but there may be two cubs that survived the accident.''
Officials have placed the mother's body in a trap at the spot where she died in hopes of luring the cubs and capturing them over the weekend.
The cubs would be taken to a Reno-area wildlife refuge, where they would be cared for and prepared for release back into the wild, probably in February, the Reno Gazette-Journal reported.
The newspaper first reported the accident. While it's not unusual for bears to be killed on highways around the Reno-Lake Tahoe area, he added, it's uncommon for two to die in the same accident.
Thursday's accident occurred amid a flurry of bear activity in the region as black bears prowl for high calorie food to pack on pounds before winter.
A bear with a record of breaking into homes was killed Monday in Incline Village by wildlife officials, while a mother and her two cubs without a rap sheet were released back into the mountains on Tuesday after being caught in west Reno.
Wildlife officials have asked residents to do their part by limiting easy pickings that attract foraging bears and lure them into situations that could lead to their death.
Copyright AP - Associated Press