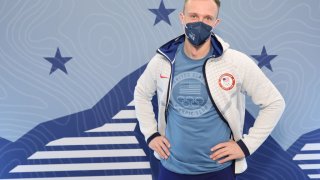 A Mount Shasta native and U.S. Forest Service firefighter with the Shasta Lake Interagency Hotshot Crew will compete in the Winter Olympics Monday as part of the U.S. Olympic snowboarding team.
Robby Burns is slated to race in the parallel giant slalom in Beijing, fulfilling a lifelong dream to compete for Team USA at the Olympics. The 31-year-old has been competing around the world as a professional alpine snowboard racer but this will be his first Olympic appearance.
And while making it to the Games to represent the small Northern California mountain town would be enough to make any Mt. Shasta resident proud, Burns was already a local hero for something else he does on the mountains: fight fires.
Burns works for the U.S. Forest Service and spends his summers as a wildland firefighter with the Shasta Lake Hotshots. He was the lead firefighter with Hotshots from 2013 to 2015, according to the U.S. Forest Service.
"Robby was an integral part of the success of the crew," Joe Bogdan, Shasta Lake IHC superintendent told the U.S. Forest Service. "We deeply respect the sacrifices he has made and his discipline to achieve his goals. We created lifelong and battled-tested relationships through our time working together."
This past summer alone, Burns worked on the front lines battling blazes like the historic Dixie Fire as well as the Salmon River Complex, Corral Complex, Forks Complex, Mad River Complex and Gasquet Complex fires.  
To show his support for his fellow firefighters in California, Burns will wear his Shasta Lake IHC buckle, which he earned after completing his third season on the crew. 
"It's a belt buckle you get after so many seasons of work on the crew," Burns said. "I'm going to wear it when I race," he told the Redding Record Searchlight.
Watch the men's parallel giant slalom on Peacock or stream on NBColympics.com starting at 7 p.m. PT.