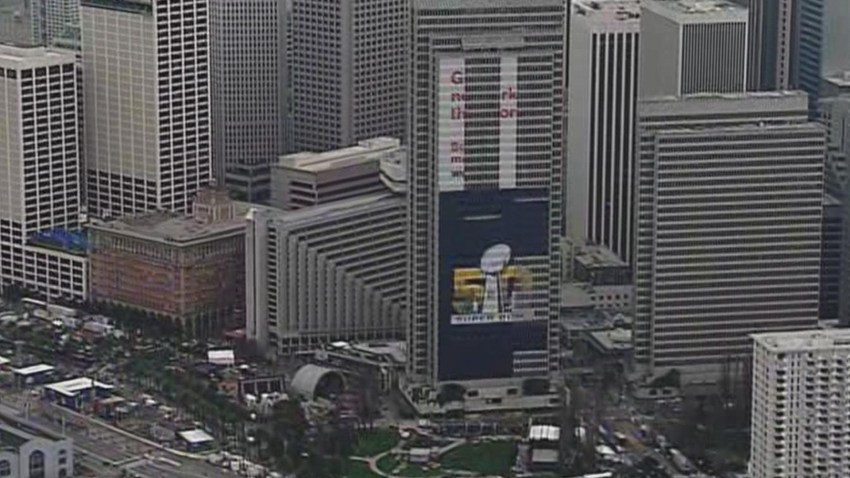 The huge Verizon Wireless advertisement installed on two sides of a high-rise office building in San Francisco was removed Thursday following reports from city officials that the sign constituted illegal advertising.
The sign had only recently been installed as part of Super Bowl City promotions.
In a Tuesday letter to Verizon's attorneys and the manager of the Four Embarcadero Center, City Attorney Dennis Herrera wrote that the signs constitute general advertising, which has been prohibited in San Francisco since voters adopted a proposition banning it in 2002.
"These signs as installed could not have been permitted by the Planning Department because they violate City law," Herrera wrote.
According to city policy, general advertising is any advertisement that "directs attention to a business, commodity, industry or other activity" and is prohibited unless it was erected prior to March 5 2002.
The city adopted the measure in an attempt to fight the "blight and clutter" brought on by advertisements in the city.
"For over 50 years, San Francisco has regulated signs and billboards (collectively, "signs") in the City to enhance the character, dignity, and aesthetics of San Francisco, and to promote the public health, safety, and welfare by reducing visual distractions to pedestrians and motorists," he wrote.
Herrera gave Verizon and Four Embarcadero management until Thursday to remove the giant sign from the building's façade, and it appears it was done in the nick of time.
"Because of honest misunderstanding between the City and the [Super Bowl] Host Committee about permissible signage under the Planning Code, we have decided to remove our signage at Embarcadero 4," Verizon Wireless said in a statement.
At time of publishing, Verizon and Four Embarcadero were working with the Host Committee to modify the advertisements so they would comply with city law.