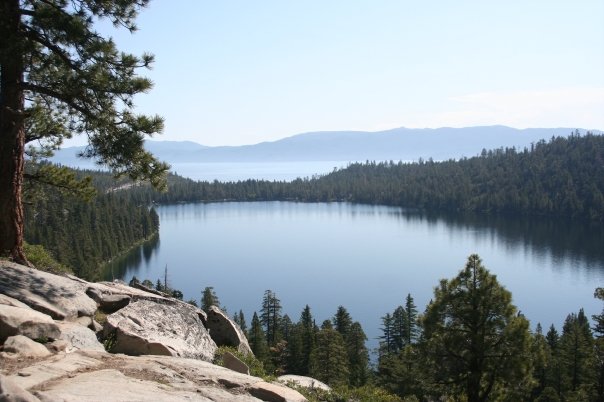 Scientists at Lake Tahoe have launched a new study to try to better understand what causes clarity-robbing algae growth on some shores around the azure lake atop the Sierra Nevada.

The Desert Research Institute and Tahoe Environmental Research Center are leading the research that will examine a variety of sources of nutrients that cause the growth, from air pollution and erosion spurred by development to over-fertilized lawns.

Rising water temperatures due to climate change also contribute to algae growth, as do Asian clams -- an invasive species that serves as food for algae when they die.

Algae growth has remained fairly consistent over the past decade but ebbs and flows on an annual basis, said Scott Hackley, a researcher who has overseen similar studies for the University of California, Davis' Tahoe Environmental Research Center in Incline Village.

"It's something we're monitoring. We are trying to understand where it is growing the heaviest and why," he told the Reno Gazette-Journal last week. "To the extent you can, you want to control the nutrients."

In the past 20 years, Lake Tahoe's clarity has shown an eight-foot improvement. That means a white measuring disc can be seen as deep as 78 feet below the surface, compared with 70 feet in 1990.

Efforts to protect the lake are aimed at extending the clarity to 100 feet. It was more than 102 feet the first year scientists formally measured it in 1968.

Studies have placed increased emphasis on nitrogen from fertilizers, which can accelerate algae growth, but Hackley said he doesn't believe "it's a major contributor."

"It's a combination of inputs,"' he said, adding that urban development in general definitely spurs more algae growth

Recent examinations of data collected by Hackley from 2004 to 2006 showed periphyton algae levels near communities were three to six times higher than levels found in 1982 to 1985.

Skip Jarvis is among the area residents who said there's significantly more algae near some beaches, including Hidden Beach near Sand Harbor State Park south of his home in Incline Village.

"The rocks are a lot slipperier than last year," Jarvis said.

The Tahoe Regional Planning Agency should more strictly regulate landscapers and gardeners who take care of the yards at homes around the lake, Jarvis said. Landscapers caught over-fertilizing or using the wrong fertilizers should be fined and repeat offenders eventually should lose their business licenses, he said.

"That would take care of a high degree of it," Jarvis said.

Jeff Cowen, community liaison for the TRPA, said the agency has an ordinance requiring land owners with more than an acre of turf to submit fertilizer management plans to the agency and those plans are monitored, but there's no requirement for smaller properties.

Doug Martin, Nevada Tahoe Conservation District manager, said many Incline residents voluntarily follow the fertilizer guidelines and keep runoff largely on their properties.
Copyright AP - Associated Press