Soy and almond drinks that bill themselves as "milk" may need to consider alternative language after a top regulator suggested the agency may start cracking down on use of the term.
The Food and Drug Administration signaled plans to start enforcing a federal standard that defines "milk" as coming from the "milking of one or more healthy cows." That would be a change for the agency, which has not aggressively gone after the proliferation of plant-based drinks labeled as "milk."
FDA Commissioner Scott Gottlieb talked about the plans this week, noting there are hundreds of federal "standards of identity" spelling out how foods with various names need to be manufactured.
"The question becomes, have we been enforcing our own standard of identity," Gottlieb said about "milk" at the Politico event Tuesday. "The answer is probably not."
White Official Tells Black Woman He Belonged to Master Race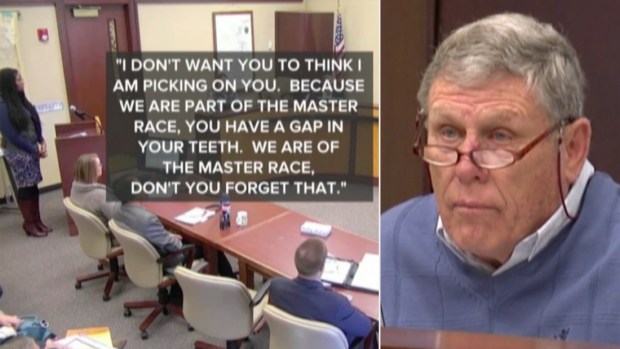 Standards of identity have been the source industry spats as American diets have evolved, including fights about what gets to be called mayonnaise and yogurt. More recently, there are disagreements over what to call meat grown by culturing cells, a science that's still emerging.
The FDA can't just change the way it enforces a standard without warning, Gottlieb said. Since it plans to take a different approach to enforcement, he said the FDA will have to first develop guidance notifying companies of the change and ask for public comment. That guidance will probably be issued in a year, he said.
Gottlieb said the agency expects to get sued, since dictionary definitions are broader and say milk comes from a lactating animal or a nut.
The National Milk Producers Federation said it welcomes Gottlieb's recognition that the labeling practices of many "plant-based dairy imitators" violate federal standards. The industry group had recently renewed its push for the FDA to crack down on nondairy drinks calling themselves "milk."
The Good Food Institute, which advocates for plant-based alternatives, says the term "milk" should be permitted with modifiers for nondairy drinks.
"For the same reason that you can have gluten-free bread and rice noodles, almond milk and soy milk are the most clear and best terms for describing those products," said Bruce Friedrich, the group's co-founder.
The FDA declined to comment on whether the agency would enforce other standards, such as for yogurt.
U.S. regulators want to remove a health claim about the heart benefits of soy from cartons of soy milk, tofu and other foods, saying the latest scientific evidence no longer shows a clear connection.
Monday's announcement by the Food and Drug Administration marks the first time the agency has moved to revoke a health food claim since it began approving such statements in 1990. The claim that soy protein can reduce heart disease appears on about 200 to 300 products in the U.S., according to industry figures, including popular brands like Silk soy milk.
Calls to WhiteWave Foods Company, which markets Silk brand soy products, were not immediately returned Monday.
The FDA first approved the language about the benefits in 1999 based on studies suggesting soy protein lowered a type of heart-damaging cholesterol in the bloodstream. But some later studies have failed to show a clear link.
One 2005 study by the U.S. government's Agency for Healthcare Research and Quality found that soy products had little effect on bad cholesterol. The FDA began reevaluating the food claim in 2007 and said Monday "the totality of the evidence is inconsistent and not conclusive."
FDA Announces Crackdown on Cigarettes
The agency will take comments on its proposal for 75 days before moving ahead. If the language is removed, companies may still be able to use a less definitive statement about soy's benefits by including a disclaimer or description of the mixed evidence.
Consumer advocates backed the proposal, arguing that earlier research misinterpreted soy's effect on cholesterol.
Bonnie Liebman, a nutrition scientist at the Center for Science in the Public Interest, explained that a person might benefit by replacing red meat with soy, but the benefit would be from the reduction in red meat, not because of anything special in the soy protein.
The FDA estimates it will cost companies between $370,000 and $860,000 in upfront costs to re-label their products, according to a federal filing posted online.
An industry group for soy manufacturers disputed the FDA's decision and pointed to 12 other countries, including Canada, that have approved health labeling claims making the link between soy protein and heart benefits. The group, Soyfoods Association of North America, said it would make its case to the FDA during the comment period.