A 29-year-old man was hospitalized with severe burns Monday evening after a fire at a home in East San Jose that started as a police chase involving a stolen vehicle, according to Santa Clara County sheriff's and fire officials.
At about 4 p.m., members of a Santa Clara County auto theft task force found a stolen vehicle near Lewis Road and Senter Road in San Jose, sheriff's officials said. Officers tried to stop the suspect as he exited the vehicle, which led to a foot chase.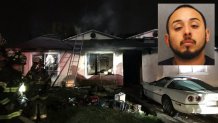 The suspect eventually broke into a nearby home in the 600 block of Santee River Court and refused to come out. The homeowner was able to get out of the house unharmed, sheriff's officials said.
At about 5:50 p.m., the home caught fire, and San Jose fire crews responded.
The home was pretty significantly involved in fire when law enforcement deemed the scene safe. Firefighters entered the home and rescued one person who suffered pretty severe burns.
The man, later identified as Raul Anthony Rodriguez, was taken to a hospital and is expected to survive, sheriff's officials said.
Rodriguez faces charges of possession of a stolen vehicle; resisting, delaying and obstructing an officer; and residential burglary; as well as a $25,000 warrant for burglary, sheriff's officials said.
It wasn't immediately clear how the fire started, but arson investigators were at the scene late Monday night.
No other injuries were reported.
The Santa Clara County Auto Theft Task Force is comprised of several law enforcement agencies across the county. San Jose police also responded to the scene to assist with the barricaded suspect, sheriff's officials said.
Anyone with information on the case should contact the Santa Clara County Sheriff's Office at 408-808-4500. Or contact the Sheriff's Office Investigative Services anonymous tip line at 408-808-4431.