Ten children have been removed from "horrible living conditions" in a home in Fairfield, California, after some told police about enduring abuse in the home that resulted in puncture wounds, burns, bruising and injuries consistent with being shot with a pellet gun, police said Monday.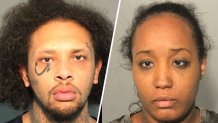 Officials said that, based on interviews with at least eight of the children, they believe that "significant torture took place" in the home at least as far back as 2014.
Solano County Chief Deputy District Attorney Sharon Henry said she was "horrified" by the children's reports of "torture" carried out "for sadistic purposes."
"It literally breaks your heart, and you're outraged by how a parent or anyone could commit those acts," Henry said afterward.

The home was brought to the attention of law enforcement after Fairfield police officers responded on March 31 to a report of a missing juvenile in the 2200 block of Fieldstone Ct.
The officers located the boy, 12, and returned him to the family home, where officers observed garbage, spoiled food and feces on the floor. All of the children, ranging in age from 4 months to 11 years old, were removed from the home at that time.
Police said a further investigation "revealed a long and continuous history of severe physical and emotional abuse of the children."

The children's mother, Ina Rogers, a 30-year-old Fairfield resident, was arrested and booked into Solano County Jail for charges of child neglect, police said. Rogers was released after posting $10,000 bail.
Detectives arrested the father, 29-year-old Jonathan Allen of Fairfield, and charged him for nine counts of felony torture and six counts of felony child abuse, police said. He's being held in the Solano County Jail in lieu of $1.5 million bail.
Court records do not indicate whether the parents have lawyers.
Rogers defended herself and her husband during an interview with reporters Monday, denying police reports of abuse or neglect. She called the charges "ludicrous."

Rogers told NBC Bay Area her 10 kids slept in one room because they wanted to, adding the home is messy due to a police search.
Rogers said she feels she's being judged for having so many children and choosing to home-school them.
She said she is surprised police have leveled the most serious accusations against her husband, as he was not the disciplinarian of the family.
"There's no broken bones, there is no major scars, nothing," Rogers told reporters in front of her house. "My kids get bumped and bruised and scratched because they're kids but that's it."
Fairfield police removed the children from the house after Rogers reported her oldest child was missing, saying he had run away after she took away his tablet computer as punishment.
Fairfield police Lt. Greg Hurlbut said when police returned the child, they found nine other children living in "squalid and unsafe conditions."
On Monday, Rogers led reporters on a tour of the four-bedroom house in Fairfield, 46 miles northeast of San Francisco.
The home was messy with scuffed walls and animal feces in the bathroom. She said the children slept on cots in one bedroom because they were close. The other rooms contained a master bedroom, playroom and meditation room.
On the day the children were removed, the house was messy because Rogers had just torn it apart looking for her missing son, she said.
She and her husband both came from broken homes, and they wanted a large family, she said.
The children's maternal grandmother called Allen a monster. She has photos of what she says is a room where he worshiped the devil.
"He would take the baby and slap it in the face and put duct tape on the baby's mouth to make it shut up," Wanda Rogers said. "And then he'd beat them up for the baby crying and waking him up."
Child protection officials made one prior visit to the home several years ago, Ina Rogers said. She did not say why.
Allen was arrested after specialists conducted interviews with the children, Hurlbut said.

Aleida Quartman, 23, said she was a co-worker of Rogers' at a heart device monitoring company. She said Rogers spoiled her children and the messy house was just life with children, cats, a dog and fish.
"She told me she's never lived alone and now that her kids are gone and her husband is gone, she's just a mess," Quartman said.
A horrified Peggy Allen, Allen's mother, said she had talked to Rogers about the dirty condition of the home, saying it was important to keep a clean house. Allen said she is estranged from her son and that he has kept his family away from the grandchildren.
"It's embarrassing," she said. "We're a Christian family and Jonathan has not been raised that way."
In a separate case, prosecutors in Riverside County have filed eight new charges against a father accused of shackling and starving some of his 13 children, alleging that he lied on government forms about their schooling.
David Turpin and his wife Louise previously pleaded not guilty to torture, child abuse and other charges in a case that has drawn international attention since the couple's 17-year-old daughter escaped the family's Perris, California, home in January and called 911.
Copyright AP - Associated Press