At a time in this country when there is so much talk about trying to bring people together, Burlingame's Sara Scott-Hitchings has a novel idea: actually bringing people together.
Take, for example, the 100 strangers Scott-Hitchings is hosting in her apartment complex's party room this Thanksgiving.
"It started small," Scott-Hitchings said. "It started with me realizing I had nowhere to go on Thanksgiving."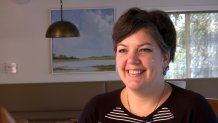 It was back in 2014 when Scott-Hitchings had that realization. Her response was to post an invitation on the Bay Area subgroup on Reddit: anyone who didn't have a place to go was welcome at her place.
Scott-Hitchings is clearly not the type to be worried about strangers in her home.
"I don't think so," Scott-Hitchings said. "I think I was more nervous the day of wondering if anybody was actually going to show up."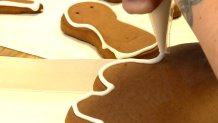 Four people did, including a guy with a guitar. A good time was had by all.
"So, I posted again and I said, 'Hey, everybody, Thanksgiving year two. I've already done it, proved I am not a murderer, who wants to come?'"
Thirty people showed up for ScottHitchings' second "Redditsgiving."
"That's when I was like, 'This is actually cool,'" Scott-Hitchings said.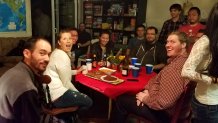 The year after that, 50 people attended and this year, Scott-Hitchings is buying food for a crowd expected to be twice as big. Her husband, Dan, will be in charge of the kitchen, leaving Scott-Hitchings to make sure the guests are having fun.
"I really enjoy talking to people and getting their stories and finding out where they came from and how they ended up in my house," Scott-Hitchings said.
Her annual Redditsgiving is confirmation, for Scott-Hitchings, that no matter what you may see on the internet, people are mostly good and that, sometimes, in the right hands the internet can even bring out the best in us.