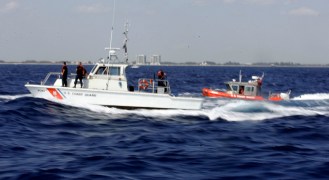 The San Francisco Fire Department and U.S. Coast Guard crews have rescued 15 minors and one adult from waters near Aquatic Park in San Francisco after the boat they were in capsized Saturday afternoon, according to the U.S. Coast Guard.
All 16 boaters were wearing life jackets and no one was injured, according to the U.S. Coast Guard.
The boaters involved, which include minors between the ages of eight and 18 years old, were transported to local hospitals as a precautionary measure, according to the San Francisco Fire Department public information office Twitter account.
A ferry vessel named "Old Blue" reportedly called in the capsized boat, which was carrying members of the Sea Scouts program, around 3:30 p.m., the U.S. Coast Guard said.
No further information was available at the time.
BREAKING: RED ALERT Boat capsized AQUATIC PARK 15 kids in the water #SFFD@USCG responding.

— SF Firefighters 798 (@SFFFLocal798) September 3, 2016
UPDATE: Red alert concluded. All kids out of the water, accounted for. #SFFD units going back in service.

— SF Firefighters 798 (@SFFFLocal798) September 3, 2016