The federal jury in the Apple vs Samsung trial fell firmly on Apple's side Friday, ruling many of Apple's patents were valid and Samsung was guilty of "willful" violation of a number of them when creating its own mobile products.
The jury also ordered Samsung to pay Apple $1.05 billion. Apple wanted $2.5 billion as it accused Samsung of ripping off the design technology.
"This is a huge win for Apple," Stanford law professor Mark Lemley told CNN. "$1,051,855,000 is just large enough to make it the largest surviving patent verdict in history."
Jurors found that several of Samsung's products illegally used Apple creations like the "bounce-back" feature and the ability to zoom text with a finger tap.
One of the few things that went in Samsung's favor was that the jury found Samsung's tablets violated fewer intellectual properties than its mobile devices.
Apple spokeswoman Katie Cotton thanked the jury for their service. "The mountain of evidence presented during the trail showed that Samsung's copying went far deeper than even we knew. The lawsuits between Apple and Samsung were about much more than patents or money. They were about values. At Apple, we value originality and innovation and pour our lives into making the best products on earth. We make these products to delight our customers, not for our competitors to flagrantly copy. We applaud the court for finding Samsung's behavior willful and for sending a loud and clear message that stealing isn't right," Cotton said in a statement.
Samsung is clearly thinking about appealing the verdict saying in a statement:
Today's verdict should not be viewed as a win for Apple, but as a loss for the American consumer. It will lead to fewer choices, less innovation, and potentially higher prices. It is unfortunate that patent law can be manipulated to give one company a monopoly over rectangles with rounded corners, or technology that is being improved every day by Samsung and other companies. Consumers have the right to choices, and they know what they are buying when they purchase Samsung products. This is not the final word in this case or in battles being waged in courts and tribunals around the world, some of which have already rejected many of Apple's claims. Samsung will continue to innovate and offer choices for the consumer.
Jurors were provided dozens of mobile devices to examine, including the iPhone -- the heart of the case.
Judge Lucy Koh gave the jury 109 pages of instructions on Tuesday. The verdict form was 20 pages of questions to be answered -- each question had subsections, too, leading to a total of more than 700 pages to answer.
A swift verdict was unexpected.
While the legal and technological issues of the case were complex, patent expert Alexander I. Poltorak told AP ahead of the verdict said the case would likely boil down to whether jurors believe Samsung's products look and feel almost identical to Apple's iPhone and iPad.
The courtroom has been anything but dull (except for the monotony of the patents themselves). Judge Koh has been chiding both sides of the argument, and there was even a threat of sanctions against Samsung.
[Click here for a few ironic and sarcastic exchanges between the judge, the jury and lawyers.]
Apple alleged that Samsung was trying to show excluded evidence to the jury. Koh denied Apple's emergency filing, however.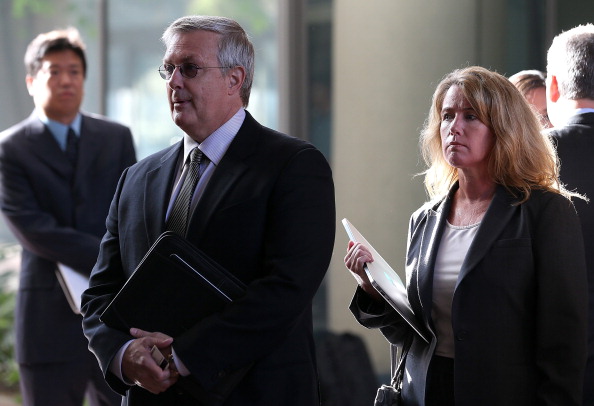 In some cases, Apple maintained during the trial, Samsung revised old patents in an attempt to make money. Standards rules generally require participating companies to warn the standards body if the ideas under consideration contain patents that would benefit a company unfairly.
Google, who has sued Apple in its own infringement claim, has been aiding its Android partner, Samsung, during the trial as well. As the three titans duke it out in court, Silicon Valley is waiting to see how it all shakes out.
Since the Apple vs Samsung includes look-and-feel patents, Apple's competitors could be severely limited in just how they design their competing devices. On the other hand, some argue that those same limitations would drive innovation, creating even harsher competition for the iPhone.
Samsung has emerged as one of Apple's biggest rivals and has overtaken Apple as the leading smartphone maker.
The trial is just the latest skirmish between the two tech giants over product designs. Previous legal battles were fought in Australia, the United Kingdom and Germany.

The U.S. case is one of some 50 lawsuits among myriad telecommunications companies jockeying for position in the burgeoning $219 billion market for smartphones and computer tablets.
Coincidentally, Friday's verdict is also the anniversary of Steve Jobs' retirement from Apple.