Black Friday got off to its earliest start ever as the nation's shoppers put down their turkey and headed straight to the malls. This year's shoppers were split into two distinct groups: those who wanted to fall into a turkey-induced slumber and those who'd rather shop instead.
Stores typically open in the wee hours of the morning on the day after Thanksgiving that's named Black Friday because it's traditionally when retailers turn a profit for the year. But after testing how shoppers would respond to earlier hours last year, stores such as Target and Toys R Us this year opened as early as Thanksgiving evening. That led shoppers on a mission to find the best Black Friday deals to ask a difficult question: Deal with the crowds now or later?
The crowds began earlier in Livermore off Interstate Highway 580. Traffic was so bad late Thursday night as shoppers flocked to the new outlet mall, that police, for a time, considered shutting down the exits near the mall, because they were so clogged.
Michelle Barrionuevo-Mazzini of San Francisco and her 15-year-old daughter decided to head out after Thanksgiving dinner on Thursday to get to the newly opened
Livermore Paragon Outlet
mall, to cruise Prada, Brooks Brothers, Bloomingdale's and more. The outlet opened at 10 p.m.
Mother and daughter were still shopping at 4:30 a.m. Friday. Despite the fact that the exit to the mall was clogged and that parking took them another 40 minutes, Barrionuevo-Mazzini said it was well worth it. She saved about $150 and wasn't planning on stopping her spending spree any time soon.
Nella Veis was also out shopping before the sun came up on Friday. She said she saved about $750.
"Was it worth the hour drive? Was it worth the hour to find parking?" Veis asked. "Mmmmmmm, I guess so. It's Black Friday. That's what you do."
Two brothers, from Hayward and San Bruno, decided to spend the night in a hotel Thursday so they could hit the Livermore outlets bright and early. On Friday by about 5 a.m., they said they had saved about $400 - that's not including, though, the money they spent on the hotel.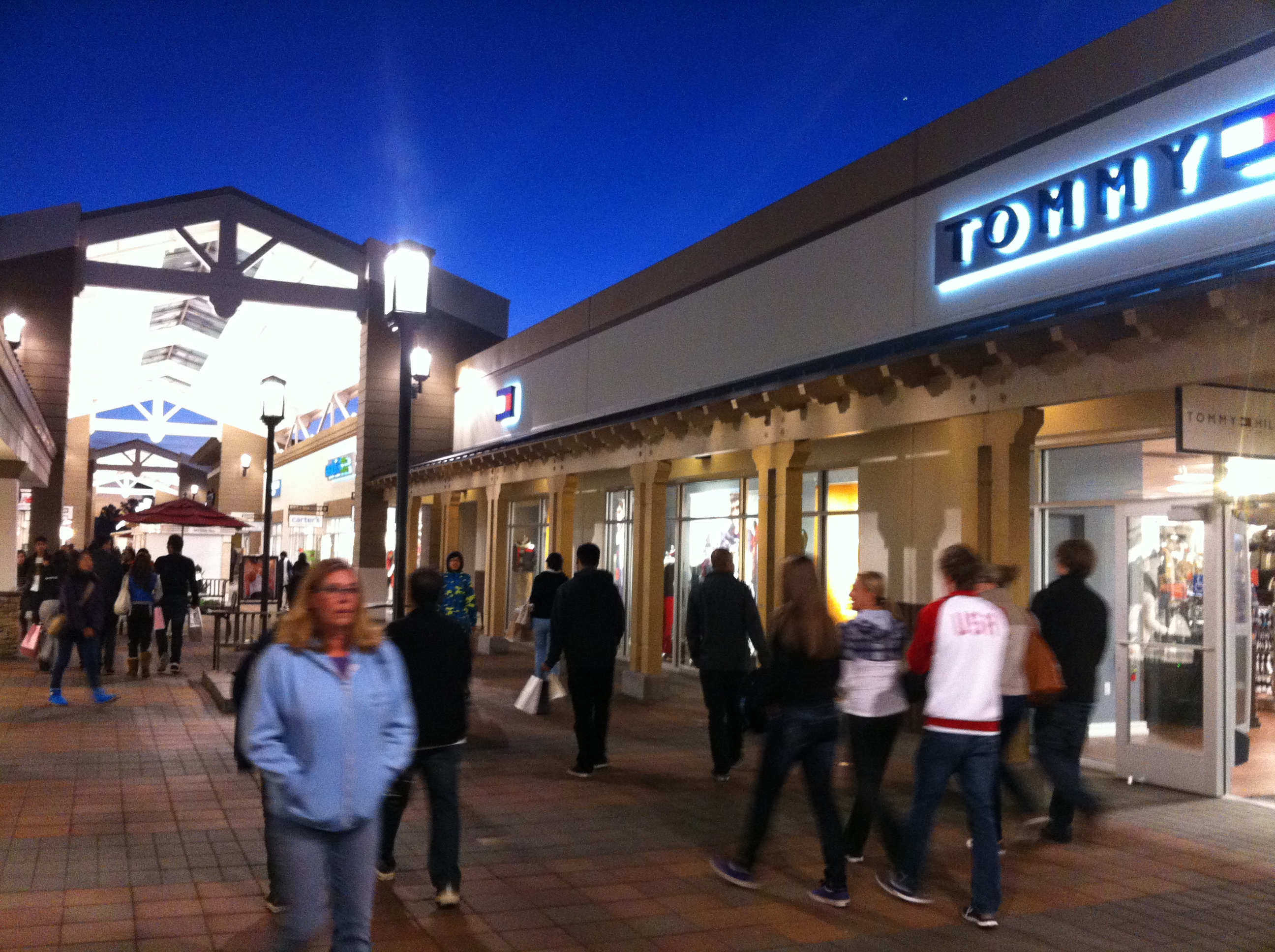 At Westfield Valley Fair Mall in Santa Clara, General Manager Gavin Farnham said that there was a large crush of people when the mall opened at midnight, but then by 9 a.m., the flow of shoppers was steady, but not crazed.
Scenes were repeated like this thoughout the country. And while most shoppers nationwide were behaving themselves, the scramble for deals has become a bit of a blood sport. In San Antonio,
one shopper pulled a gun o
n an impatient line-cutter who'd punched him in the face during a Thursday night opening at Sears. Scuffles broke out at two Indianapolis Kmarts, and at someone threatened to stab people in line at a
Kmart in Sacramento
. Police deployed dozens of
extra officers to Los Angeles
shopping centers to try to prevent unruliness.
There were also Wal-Mart protests throughout the country, including one in San Jose at noon, which drew about 75 people to its Story Road store and remained civil. There was a much bigger protest in
Paramount in Los Angeles County,
where police showed up in riot gear and arrested nine people, including three Wal-Mart employees. The protests are part of a nationwide union protest to call attention to what critics say are low wages and poor working conditions at the nation's largest retailer.
There were protests - but not Wal-Mart related - in San Francisco too. As is annual tradition, fur critics dressed as bloody zombies walked past shoppers, lines of women in black from head to toe staged a silent protest in Union Square. Still, throngs of shoppers walked past lines of police on their hunt for Black Friday goodies.
But mostly, shoppers from coast to coast just wanted to buy their clothes and jewelry and TVs in peace.
Elizabeth Garcia, a sales rep from the Bronx, decided for a later shopping start at about 3:30 a.m. at a nearby Toys R Us in Times Square. Garcia, who has three children ages three, five and seven, said she specifically decided on the later time to avoid the crowds on Thanksgiving when the store opened at 8 p.m. She believes that was the best decision: Last year, Garcia almost got into a fight over a Tinker Bell couch, but this year things were much calmer.
"This year I wasn't about to kill people," she said.
It is unclear how many shoppers were drawn to the earlier openings versus the traditional Black Friday hours. But according to an International Council of Shopping Centers-Goldman Sachs survey of 1,000 consumers conducted this month, about 17 percent planned to shop at stores that opened on Thanksgiving, up from 16 percent last year when retailers were testing the earlier hours. Meanwhile, 33 percent intended to shop on Black Friday, down one percentage point from last year. Overall, it's estimated that sales on Black Friday will be up 3.8 percent to $11.4 billion this year.
The earlier hours are an effort by stores to make shopping as convenient as possible for Americans, who they fear won't spend freely during the two-month holiday season in November and December because of economic uncertainty. Many shoppers are worried about high unemployment and a package of tax increases and spending cuts known as the "fiscal cliff" that will take effect in January unless Congress passes a budget deal by then. At the same time, Americans have grown more comfortable shopping on websites that offer cheap prices and the convenience of being able to buy something from smartphones, laptops and tablet computers from just about anywhere.
That's put added pressure on brick-and-mortar stores, which can make up to 40 percent of their annual revenue during the holiday shopping season, to give consumers a compelling reason to leave their homes. That's becoming more difficult: the National Retail Federation, an industry trade group, estimates that overall sales in November and December will rise 4.1 percent this year to $586.1 billion, or about flat with last year's growth. But the online part of that is expected to rise 15 percent to $68.4 billion, according to Forrester Research.
As a result, brick-and-mortar retailers have been trying everything they can to lure consumers into stores. Some stores tested the earlier hours last year, but this year more retailers opened their doors late on Thanksgiving or at midnight on Black Friday. In addition to expanding their hours, many also are offering free layaways and shipping, matching the cheaper prices of online rivals and updating their mobile shopping apps with more information.
"Every retailer wants to beat everyone else," said C. Britt Beemer, chairman of America's Research Group, a research firm based in Charleston, S.C. "Shoppers love it."
To see Macy's CEO talk about record Black Friday crowds on the Today show, click here:
NBC New York's Anne D'Innocenzio and Mae Anderson, NBC Bay Area's Alan Waples and Joe Rosato Jr., and NBC LA's Jason Kandel and Toni Guinyard contributed to this report.