After 2,000 hours of investigation in nine counties, the Sonoma County Sheriff's Office has arrested two North Bay men on suspicion of sexually assaulting a San Francisco woman in a vehicle in April.
The suspects, identified as Fredi Analberto Lopez-Flores, 33, of Novato, and Christian Alejandro May Quintero, 24, of Sonoma, allegedly encountered the woman as she waited for a ride-hailing company driver to pick her up at Stanyan and Fulton streets in San Francisco on April 14.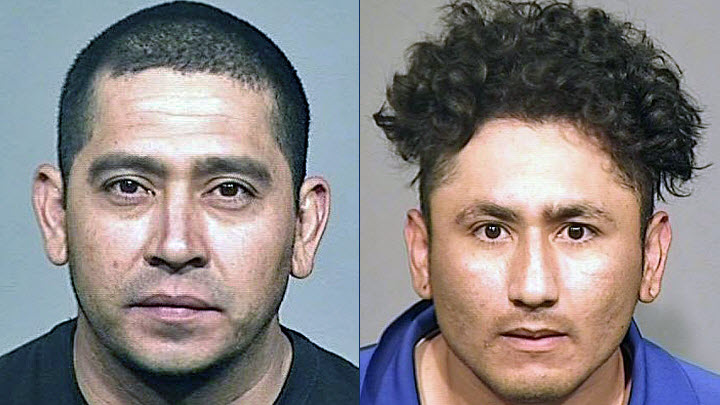 The woman initially had taken a ride from Bruno's, a bar in the city, by another ride provider but had accidentally entered Stanyan and Fulton streets as her destination, sheriff's spokesman Sgt. Spencer Crum said.
"She became nervous when it appeared the car was heading in the wrong direction and she got out of the car and called another ride provider," Crum said.
Lopez-Flores pulled up next to the woman, then Quintero got out of the Dodge and forced her into the back seat. As Lopez-Flores drove to Sonoma, Quintero allegedly beat and attacked the woman in the car. Neither man worked for a ride-hailing company, Crum said.
Quintero allegedly continued the sexual assault and attack that included choking when they arrived at a shopping center in Sonoma across from a Safeway store. Lopez-Flores walked to a gas station, bought a condom and sexually assaulted the woman in the back seat, according to Crum.
The woman eventually escaped around 5 a.m. with the help of a Safeway employee.
Sheriff's detectives reviewed hours of surveillance video from businesses and bridge cameras in the Bay Area. Included in the video was a male seen entering a gas station across the street from the Sonoma crime scene and purchasing a condom, Crum said.
Detectives wrote and served search warrants, including a warrant for the woman's cellphone that provided the approximate time the woman crossed the Golden Gate Bridge, Crum said.
Video from a Golden Gate Bridge camera showed a black Dodge Magnum with a blue neon license plate light. The Dodge with the blue neon light also was seen on cameras at businesses in Sonoma, Crum said.
Detectives sent out a flier with a picture of the Dodge with the blue light to law enforcement agencies, and a Novato police officer recognized the vehicle from an unrelated arrest that entailed towing Lopez-Flores' car, Crum said.
Detectives wrote a search warrant for data from Lopez-Flores' cellphone company, and records indicated Lopez-Flores was in the area of San Francisco where the woman was forced into the vehicle on the morning of April 14 and at the time she arrived in Sonoma, Crum said.
Detectives got a $2 million warrant for Lopez-Flores' arrest, and he was arrested Friday in San Rafael where he worked, Crum said.
Investigators determined that Lopez-Flores was with Quintero, who lives a block away from assault scene in Sonoma, on the morning of the assault.
Physical evidence of the assault was found during a search of Quintero's home, and he was arrested Saturday at the Sonoma car wash where he worked, Crum said.
Both men were booked into Sonoma County Jail on suspicion of numerous sex and assault offenses. Quintero also was booked for attempted murder by choking, Crum said.
They are scheduled to be arraigned in Sonoma County Superior Court on Tuesday afternoon.