An early morning 3-alarm fire injured seven and damaged four homes – two extensively – in Bay Point, which may have been started by a burning car or minivan in the driveway, according to the Contra Costa Fire District.
The fire, reported on Anchor Drive just after 1:15 a.m., also reached the nearby PG&E lines, which crews raced to protect. A total of 71 customers were temporarily without power as crews worked to de-energize lines from a burning power pole.
One of two cars, or a minivan, was on fire in the driveway, and Fire Marshal Robert Marshall said that could likely be the culprit of the blaze that ended up torching the homes. Photos after the fire showed several scorched and blackened vehicles on the property and on the street.
Residents of the homes ran outsides, many in tears. One woman, however, felt grateful that her son woke up to smell smoke and alerted the rest of the family.
"I'm happy my son is OK," said the boy's mother outside the fire. "But besides that, we totally lost everything."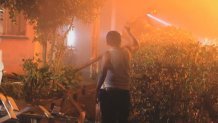 The seven who were injured suffered mostly minor burns and smoke inhalation, Marshall said. Four of the seven were taken to the hospital.

#CoCo Cty fire investigating vehicles as possible source of fire that hurt 7 people & destroyed two #baypoint houses pic.twitter.com/wJrpRCjjUy

— Bob Redell (@BobNBC) September 10, 2015
#anchorIC UPDATE: Fire contained, 2 homes complete losses, 1 moderate dmg, 1 minor dmg

— Confire PIO (@ContraCostaFire) September 10, 2015
[[326272551 ,C]]