Several lightning-sparked wildfires in the North Bay have scorched 363,220 acres, destroyed 1,491 structures and claimed the lives of at least five people, according to Cal Fire. Collectively, firefighters have 100% containment on the blazes.
Cal Fire said three of the five civilian deaths it is reporting from the wildfires occurred in Napa County, with the other two in Solano County.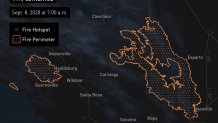 Mary Hintemeyer, her boyfriend Leo McDermott and his son, Tom McDermott, are among the dead. They were killed when flames swept through their Napa County property.
PG&E confirmed that a Vacaville-based troubleman died while assisting first responders in the battle against the flames. No further details about the victim were immediately available. The PG&E worker's death is not included in Cal Fire's civilian death toll, and PG&E said that the death is not directly related to the fire.
You can view a Cal Fire map of current incidents here.
In Napa and Lake counties, the Hennessey Fire, which now includes the Gamble, Green, Aetna, Markley, Spanish, Morgan and Round fires, has charred 317,909 acres and is 91% contained, according to Cal Fire.
In Sonoma County, the Walbridge Fire is 54,940 acres, with 95% containment, and the Meyers Fire is 2,360 acres, with 100% containment.
"The size and the complexity of this fire is not one that we have seen in times past," LNU Complex Unit Chief Shana Jones said.
Firefighters have been able to keep the flames from reaching downtown Healdsburg in Sonoma County, but they're still evaluating losses along many roads winding through the hills between Healdsburg and Geyserville.
"A lot of my friends have lost their childhood homes," Geyserville evacuee Jenna Torres said. "We're grateful for what we still have."
At least four civilians have been injured by the flames, Cal Fire said.
Cal Fire said firefighters are facing a number of challenges, including rugged terrain and unfavorable weather conditions.
The LNU Lightning Complex Fire is the third-largest recorded fire in California's history, according to Cal Fire.