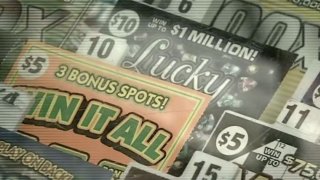 Three lottery players in the greater Bay Area recently took home hefty six- and seven-figure prizes after playing Scratchers games, according to the California Lottery.
In San Leandro, Oscar Ramirez won $750,000 on a Mystery Crossword Scratchers ticket bought at Town & Country Liquors, 16211 E. 14th St., lottery officials said.
Another big Scratchers win came in Santa Cruz County, with Cristoval Montejano-Rocha hitting a $1 million jackpot on a California Dreamin' ticket. Montejano-Rocha bought his lucky ticket at Pajaro Valley Chevron, 200 Lee Road in Watsonville, the lottery said.
In Monterey County, Stella Ramirez also scored $1 million on a Merry & Bright Scratchers ticket bought at West Market Valero, 633 W. Market St. in Salinas, officials said.