A natural gas pipeline fire erupted at a mobile home park in Napa shortly after a 6.0-magnitude quake struck the Napa area 3:20 a.m. Sunday morning.
When firefighters arrived on the scene they were greeted by busted water mains. Dealing with little to no water pressure in the fire hydrants, they reached out to the county for help which dispatched two 3,000-gallon tank tenders to the scene.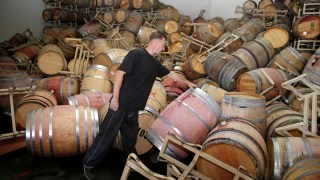 Dramatic Photos: Earthquake Wreaks Havoc in Napa
The fire broke out in a dwelling behind resident Nola Rawlins' home.
"The house in the back caught on fire first… I think it was a gas explosion," said Rawlin. "The flames were going way up."
Lt. Gov. Gavin Newsom was in Marin at the time with his family. He came out to survey the damage and talk to the affected families of the mobile home park later that morning, hoping to gather information on what is needed from the state to help local first responders.
"The first responders did an exceptional job, not surprisingly," said Newsom when asked about what impressed him most. "And the coordination between the city and county and frankly, the state of California. The challenge is what happens two, three days from now."
Gavin Newsom: Napa Quake is "Wake-Up Call"