Richmond police confirmed Sunday morning the man suspected of killing a 4-year-old boy in a hit-and-run turned himself in Saturday night.
The child, identified only as Heitor, was hit around 5 p.m. Friday as he stood with his father in front of their home in the 2200 block of Coalinga Avenue, police said. He was flown to a local hospital in critical condition but later died.
The vehicle that struck the child did not stop and fled the scene, according to police. Officers confirmed they recovered the suspect's vehicle when he turned himself in Saturday night.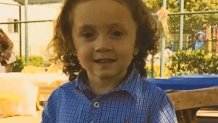 It was described as a 1999-2003 metallic blue Ford Explorer with aftermarket chrome-type rims and an apparent white rectangular sticker on the bottom right corner of the back window. Police said the car sustained minor front end damage.
The car was last seen traveling westbound on Coalinga Avenue toward 22nd Street, according to police.
Photos: Child Dies After Hit-and-Run Collision in Richmond; Police Search for Suspect
Heitor's mother, Jaiane Carreiro, said she believes that if the driver had stopped to help her son, he might still be alive.
"You are a very bad person, without a heart; you don't have a god, like a monster," she said in a message to the driver.
Carreiro said that she and her husband, Mauro, are still in shock that their child is gone. According to the couple, Mauro was getting something out of his car, which was parked in front of their home, when the SUV slammed into Heitor, throwing him into the air.
Carreiro said the crash was so loud she ran out of her house. She found her son bleeding in the street.
She is, however, grateful for those who tried to help her son.
Richmond residents Greg and Louise Ollano grabbed a first aid kit and attempted to keep the boy alive.
"I started applying pressure to the kid and I kept telling him 'stay awake, help's coming,'" said Greg Ollano.
Richmond police briefly shut down Coalinga Avenue Saturday evening to launch a drone for surveillance of the accident scene.
Several neighbors said that speeding is a big problem on the street.
Heitor's parents said they remember their son's smile and his love of animals and matchbox cars. They hope justice will be served to the driver who killed him.
Police are not releasing the name of the suspect or his mugshot at this time.
Editor's Note: Officials have corrected the boy's first name.