The San Francisco 49ers hit a true construction milestone Thursday at the new Santa Clara stadium site.
Construction crews held a topping off ceremony as they placed the highest beams on the stadium site on Tasman Drive in Santa Clara.
The nine-level structure is now officially nine levels.
See live view of stadium here.
The final two beams, which were signed by stadium and city officials as well as 570 construction workers and 49ers players and coaches, were hoisted into place Thursday afternoon.
The last pieces of steel are just two of the some 14,000 pieces of steel that weigh in at 18,000 tons. They make up the shell of the 1.85 million square foot stadium.
The steel framing has been a work in progress since July as four huge cranes lifted dozens of pieces of steel each day.
The stadium now has its shape just eight months after the April groundbreaking.
The stadium is set to open for the 2014 football season.
Earlier this week 49er CEO Jed York discussed his team's plan to build what he called a software-driven stadium fit for the Silicon Valley. Click here to watch that interview.
Here are some facts about the project: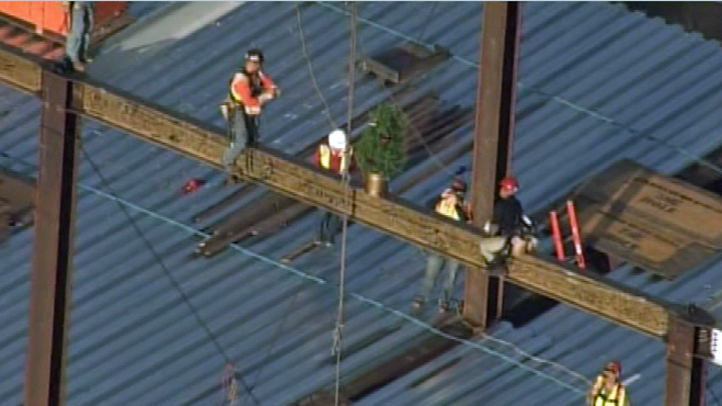 An American flag and an actual evergreen tree are attached to the beams as a symbol of growth and luck.
Approximately 18,000 tons of steel (14,000 pieces) will support the 1.85 million square foot stadium, orthe equivalent of 3,000 elephants.
The stadium will contain more than 40 million pounds of precast concrete.
The stadium will have 10,000 steps and landings, which adds up to more than a mile of steps. If stacked in one building, it would be 580 stories from ground to rooftop.
Over 3,000 foundation piles were drilled at an average depth of 55 feet.
Over 50 miles of pipe have been laid underground.
29,000 cubic yards of concrete has been poured, equivalent to the foundation slabs for 580 2,000 square-foot homes.