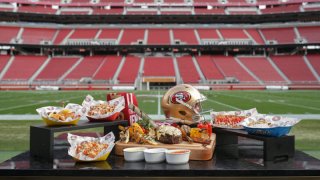 The San Francisco 49ers and concessions partner Levy unveiled new, limited edition signature foods and drinks to be featured during the first playoff game in the nearly six-year history of Levi's Stadium.
Specialty menu items and beverages will be available in specific locations at the stadium's main concourses and premium seating sections during Saturday's divisional playoff game against the Minnesota Vikings, the 49ers said.
The game, airing on NBC Bay Area, kicks off at 1:35 p.m. Premium gates open at 10:35 a.m., and stadium gates open at 11:35 a.m.
A souvenir cup also will be available with some drinks, the team said. Here's a list of food and drink specials fans attending the big game will find:
Main concourse and Zenni Zone concessions
Fritos Cheesy Elote Nachos: corn chips, Tostito's cheese sauce, roasted corn, jalapeños, cotija cheese, Flamin' Hot Cheeto dust, available behind Section 108 and 302
Loaded Bulgogi Pork Nacho: pulled Korean barbecue pork, jalapeño cheese sauce, kimchi, green onion, and gochujang crema, available behind Section 124 and 313
Loaded Big Kid Dog: foot-long hot dog topped with mac and cheese and Flamin' Hot Cheeto dust, available behind Section 304
Loaded Tots: pulled buffalo chicken, jalapeño cheese sauce, pico de gallo, green onion, and Frank's RedHot Sauce, available behind Section 122 and 319
Dungeness Crab Sammy: Dungeness crab with lemon, chives, and Old Bay seasoning, served on a buttered spilt-top roll, available behind Section 124
Club and suite experiences
Fans can enjoy dueling cocktails with a signature 49ers cocktail is competing against an opponent-themed concoction crafted just for the postseason in the Citrix Owners Club and BNY Mellon East and West Clubs
Blood Orange Old Fashioned: fresh blood orange juice, honey, rosemary syrup and Gold Bar Whiskey
Appellation 49, the league-leading wine program curated by 49ers co-chairman Dr. John York, will feature two California vintners leading wine tastings in the BNY Mellon Club West
Fans with access to the Citrix Owners Club will toast the playoffs in style. Specials for the Divisional Round include 24-carat gold flake dusted tomahawk and ribeye steaks, premium dessert cart, champagne ice display, and a Pig Skin Corner with specialty bacon and pork rinds.
Bay Area favorites Hog Island Oysters, Tony G's, and Sandi's Cobbler will bring local flavor to BNY Mellon Club East and West and Citrix Owners Club
BNY Mellon East and West Club guests can also snack homemade Belgian pretzel rods with beer cheese, and custom gold 49ers logo popcorn
Guests in suites will be greeted with custom 49ers chocolate bars, sparkling wine, and playoff-theme accessories