A pedal cab operator was clinging to life Wednesday following a hit-and-run collision near San Francisco's Pier 29, police said.
The pedicab driver was identified by fellow drivers as Kevin Manning.
The pedicab was carrying a family of four, including two children, when the collision occurred. All family members suffered non life-threatening injuries, police said.
Police said at 4:14 p.m. Wednesday a light-colored sedan made contact with the pedicab in the area of The Embarcadero and Sansome Street. It then struck a second pedicab before driving off into rush-hour traffic.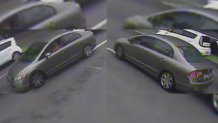 The suspect vehicle was last seen heading toward the Bay Bridge, according to police.
The second pedicab driver wasn't hurt, but many fellow operators were at Zuckerberg SF General Hospital late Wednesday concerned about the fate of their colleague.
"I'm very shaken up. You know this is a friend that I'm very close with," pedicab mechanic Colin Sanders said. "One of the few people that I hang around with outside of work. He's a good friend, and I really hope he pulls through this."
According to the pedicab company's website, Manning is an inventor who has been driving to help fund his small business.
NBC Bay Area's Sergio Quintana contributed to this report.
*** COLLISION ***EMBARCADERO NEAR PIER 29 INVOLVING A PEDI-CAB 5 victims serious injuries including a 5 and 8 year old. This is an @SFPD INCIDENT and all further inquiries should be directed to that agency. pic.twitter.com/AOuPjKJRgC
— San Francisco Fire (@sffdpio) June 28, 2018