A cute and friendly pit bull at the Peninsula Humane Society and Society for the Prevention of Cruelty to Animals shelter in Burlingame is waiting to be adopted by her forever family.
Leah is a 5-year-old gray female. She was found in March 2015 as a stray in East Palo Alto and just celebrated her third anniversary at the shelter.
"Leah's been patiently waiting now at our shelter for three years to be adopted into a new and loving family," Buffy Martin Tarbox, the shelter's spokeswoman, said.
Tarbox said Leah is a favorite among the staff and volunteers at the shelter. They recently celebrated her third anniversary at the shelter with special dog cupcakes, or pupcakes, Tarbox said.
Tarbox said that Leah is very gentle and tolerant of all handling, although she is nervous around other dogs and should probably be the only dog in her new home.
Leah's health in exceptional, however, she does have a flea allergy that causes skin sensitivity to flea medicine. She's also been spayed, micro-chipped and vaccinated.
Leah is "plus-sized" and shelter officials said her new family will need to be committed to helping her lose weight.
"We affectionately refer to Leah as the friendly hippo at our shelter," Tarbox said.
Anyone interested in meeting Leah can visit the shelter at 1450 Rollins Road in Burlingame or call (650) 340-7022. The shelter is open Monday through Friday from 11 a.m. to 7 p.m., and from 11 a.m. to 6 p.m. on the weekends.
Her adoption fee is $120. Potential adopters should arrive at least an hour before closing time to complete an adoption.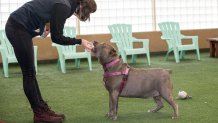 Copyright BAYCN - Bay City News