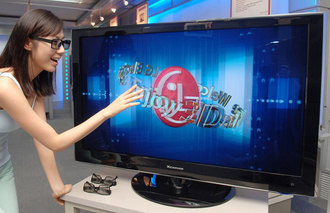 As any small child — or just impatient gadget-lover — knows, waiting is the hardest part. And while waiting until the holidays to open your loot is one thing, there are those items that will require just a bit more perseverance in the patience department. Because even Santa can't deliver these, unless, that is, you're giving your list to someone with a time machine.
1. Plastic Logic Que
Amazon.com may have great prices and a huge selection, but the online retailer still lacks the store experience that is Barnes & Noble. For those who enjoy real bookstores, Plastic Logic's Que could be your answer to the Kindle. This high-end reader will offer an 8.5-by-11-inch touchscreen that is just a third of an inch thick, and will let users view Microsoft Office files, Adobe PDFs, videos and even allow for browsing of newspapers, magazines and books, all downloaded via Wi-Fi and AT&T's 3G data/phone network. The Que is in the queue for arrival early next year, selling alongside Barnes & Noble's Nook at the bookseller's stores.
2. Apple Tablet
Whether this is vaporware, a hoax or really in the works is still very much up for debate. However, if it is real — and I think it probably is — this will either be the next iPod and become a huge hit for Apple, or it will have us flashing back to the Apple Newton, one of the company's attempts at a PDA. But that said, the Tablet could be part netbook, part entertainment device and part pure inspiration. It will either arrive in the second half of 2010 or never. We'll have to wait and see.
3. Microsoft Courier
And, hey, speaking of the iPod: Microsoft's Zune was no iPod. But part of the problem is that the Zune arrived to a market utterly dominated by Apple. The Courier could get the message to the masses first, and in this case it isn't so much a tablet as a booklet. Rumors abound that it features dual 7-inch multi-touch screens that work with finger and stylus, and that it can be used to snap photos, take notes and even browse the Web. So this is more than an ebook, more than a netbook, and just a bit in the clouds — at least in terms of connectivity and applications. What shape will it end up taking? Well, we'll have to wait until next year.
4. Simpsons 20th Season on Blu-ray
So this isn't technically a gadget or device, but the 20th season of America's favorite TV family, which now happens to be longest running animated series ever, is actually worth the wait. While Fox Home Video skips ahead by a few seasons as well, this is the first arrival of Homer and the gang on Blu-ray, and they've never looked better. The show's move from hand animation to computer artwork has resulted in an even more consistent look, and, thanks to revamped breaks, the pacing has mostly improved. It might not be the "best season ever" to paraphrase Comic Book Guy, but there's no denying that this January release is truly "the best looking season ever."
5. 4G Phones
Speaking of time travel, what's the deal with the fourth dimension that everyone makes such a deal about. The really important "fourth" is the G, as in 4G mobile phones. Mobile carrier Sprint has launched its Sprint 4G broadband service in the Seattle area, which boasts access to improved streaming video, faster downloads and a better browsing experience. HTC, maker of the G1 Android phone, has already released an expensive 4G/WiMAX handset, but the New Year could bring faster phones that do even more, making our current BlackBerries and iPhones seem like last year's technology. Last year as in, you know, this year.
6. Nokia 6700 Slide
4G won't be the only cool option on the street, at least for anyone without a Crackberry addiction or who feel that Apple's baby is a bit of an iSore. Good and colorful things will come to those who wait, as the phonemaker will roll out the 6700 Slide: a Symbian-powered phone that offers 3G connectivity along with a 5-megapixel Carl Zeiss camera and 2.2-inch screen. The stylish feature phone will be available in the first quarter of next year for around $150, and it will come in six colors including pink, red, petrol blue, aluminum, lime and purple.
7. 3D TVs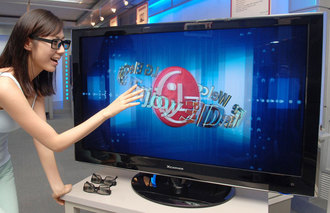 The buzz all this year is that 3D will be coming to a living room near you, and while it is true that James Cameron is bringing 3D to the big screen with his remake of a Kevin Costner film (really, isn't Avatar just Dances With Wolves reimagined — in space?), where is my 3D TV? DLP sets have delivered 3D for games, but the third dimension is where TV could go in 2010. Or maybe we'll put this on the gift guide list next year. Only time will tell, folks!
Copyright DVICE - DVICE