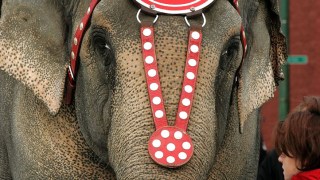 Elephants love Oakland. Ringling Bros. and Barnum & Bailey, not so much.
The circus may no longer coming to town after Oakland city leaders approved a ban on bullhooks, controversial metal tools that allow circuses to better control elephants, according to the Bay Area News Group.
Small metal rods with a hooked end, bullhooks will be banned beginning in 2018. That's when the circus will stop visiting Oakland, circus officials said.
A circus spokesman said that animal rights' activists had hijacked the conversation, leading to a rushed process that was "unfair and absurd."
But the circus may yet be saved in Oakland: A new City Council will be seated in January.
Circus officials say elephants can't be safely controlled without the bullhooks.
Without the circus, Oracle Arena will lose about $400,000 in revenue, according to the news chain.