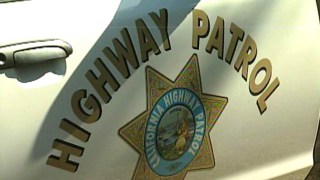 The California Highway Patrol arrested a Lakeport man Thursday night on suspicion of assaulting a driver with his vehicle after a collision and stealing a cell phone, all while under the influence.
The incident occurred after a rollover collision around 8:40 p.m. on northbound U.S. Highway 101 near North San Pedro Road in San Rafael, CHP Officer Andrew Barclay said.
A driver who was stopped in traffic behind that collision told the CHP his vehicle was intentionally hit from behind, and the driver who rammed him stole his cell phone and drove away.
A witness to the rear-end collision called 911 and said he was following the driver who fled and that there appeared to be a physical fight happening inside the suspect's vehicle.
CHP Officer Kenneth Giordano located and tried to stop the suspect's vehicle in Novato at the San Antonio Road exit. The suspect, identified as Neil Anthony Hart, 58, of Lakeport, fled toward Petaluma at speeds near 100 mph with Giordano in pursuit.
Hart exited the highway at state Highway 116 in Cotati and drove to an apartment complex parking lot off Enterprise Drive. CHP officers from Santa Rosa and a CHP airplane responded and took Hart and the passenger in his car into custody, Barclay said.
The passenger was a 56-year-old transient Hart met in San Francisco earlier Thursday evening, and he fought with Hart because he wanted to get out of the vehicle, Barclay said. The CHP determined the transient was an unwilling accomplice and he was released from the scene, Barclay said.
CHP officers determined Hart was driving under the influence of drugs, and he was taken to the Marin County Jail where he was booked for reckless evading, assault with a deadly weapon, robbery by force, DUI, battery, false imprisonment and driving on a suspended license, Barclay said.